Taft School rededicated after $4.7 million upgrade
Brock A. Stein | 9/1/2015, 9:08 a.m. | Updated on 8/31/2015, 8:46 p.m.
Though it encompasses little more than 1-square mile, Taft School District 90 in Lockport has more than its share of community support.
It started as a one-room schoolhouse in the 1880s, but has grown over the decades as more students moved in to the K-8 district on Lockport's south side.
Supt. Dr. D.J. Skogsberg said that growth has come in phases.
"Up until 1888, we had less than 100 students in the district," Skogsberg said. "But once you hit 100 students, you had to form a formal school district."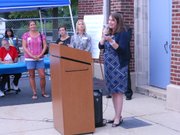 The latest phase has been $4.7 million in upgrades to the district's one school, which was celebrated last week when the building was rededicated with a group of students, parents and alumni in attendance.
The building dates back to 1909. At the time, there was no indoor plumbing and a hall pass to the bathroom meant making a trip to an outhouse. The first expansion came in 1939, when a small gymnasium, cafeteria and stage for the school's auditorium were added. And as enrollment grew another addition was constructed in 1959, Skogsberg said.
Enrollment has more than doubled since Taft School became Taft School District 90, with 260 students enrolled so far this year and a total of 336 projected.
That's meant the district has had to find ways to upgrade their facilities, no small task considering the state budget crunch.
The district received word in 2003 that they qualified for state matching grant funds totaling $4.8 million with the condition that the district raise another $5.2 million.
While it took longer than anticipated, voters approved the sale of $3.2 million in bonds in 2012 and the district was able to tap another $2 million in alternative revenue bonds. By then, however, the state funds were entrenched in a worsening state debt crisis.
The district decided to move ahead with the upgrades anyway, taking projects in phases with the hope that state money would become available later.
The result of that work was on display last Friday, as the school opened its doors to to the public.
One of the most important changes was to the building's electrical system, which prior to the work was the equivalent of what might be found in a single-family home, officials said.

Other work included an expansion of the library, an updated computer lab, a refurbished gym floor and the removal of asbestos tiles. A security vestibule, automatic energy-saving LED lighting and air-conditioning were added.
A boiler system that dates back to the 1950s was also upgraded after having failed during the previous two winters, Skogsberg said.
District officials remain hopeful the state will come through with its promised funding so the remaining projects needed can be done.
"To really complete this project it would be vital for us to get that money from the state," he said, noting that it's "only a matter of time before the furnaces fail."
Skogsberg said they have the support of state Sen. Pat McGuire (D-Crest Hill) and state Rep. Emily McAsey (D-Lockport), who both attended Friday's ceremony. Also in attendance was Lockport Mayor Steve Streit.
McAsey said constituents told her of their worries about the school -- especially the lack of air-conditioning -- while she was running for office.
"I heard from lots of parents who were very concerned," McAsey said.
Harlene and John White, siblings who graduated from Taft in 1960 and 1966 respectively, were thrilled to be back at their alma mater and to tour of the upgraded facilities. They grew up in a house across the street from the school, and Harlene's son and daughter also graduated from Taft.
Even though additions have been added and upgrades made, the thing that makes the school special is the close-knit community that still supports it, they said.
Both recalled a district where "you know everybody," and it wasn't uncommon for a teacher to drop over to a home to check up on a student.
The school has survived through dogged support of residents and students, said John White, who worked as a teacher in Frankfort before retiring to California.
"People need to understand, this school didn't just appear," he said. "It took a lot of hard work from the community."
Contact Brock A. Stein at Brock@TheTimesWeekly.com or on Twitter @BrockAStein