Grilled Watermelon and Shrimp Salad
9/4/2015, 2:54 a.m.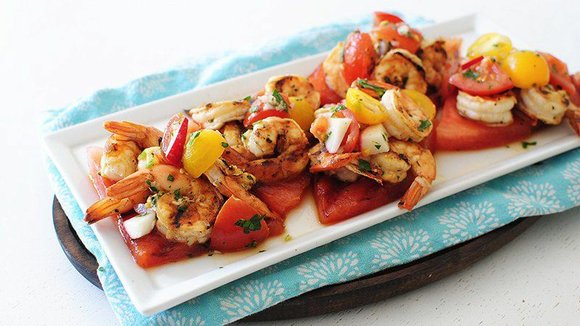 SERVINGS: 8
Ingredients
1 1/2 cups diced yellow and red cherry tomatoes
1/4 cup diced radishes
2 tablespoons parsley
2 tablespoons minced shallots
1 teaspoon Dijon mustard
1/3 cup extra-virgin olive oil
1 tablespoon fresh lemon juice
Salt and pepper, to taste
1 pound extra-large shrimp, peeled and deveined
8 watermelon slices, rind removed
Directions
In a medium bowl, toss together the tomatoes, radishes and parsley.
In another small bowl, whisk together the shallots, Dijon mustard, oil, lemon juice, and salt and pepper. Pour half of this mixture over the tomatoes, then cover and chill. Pour the other half of the mixture over the shrimp as a marinade. Chill the shrimp for 30 minutes.
Heat an indoor or outdoor grill to medium high. Add the watermelon slices and grill until you see grill marks on both sides, about 10 minutes total. Remove from the grill and set aside.
Place the shrimp on the grill and sear until shrimp are opaque with grill marks.
The watermelon will be very watery, so pat dry before assembling.
Place the grilled watermelon on a platter, top with shrimp and tomato-radish relish. Serve immediately.