Will County departments provide emergency YESS funding
9/4/2015, 1:47 p.m.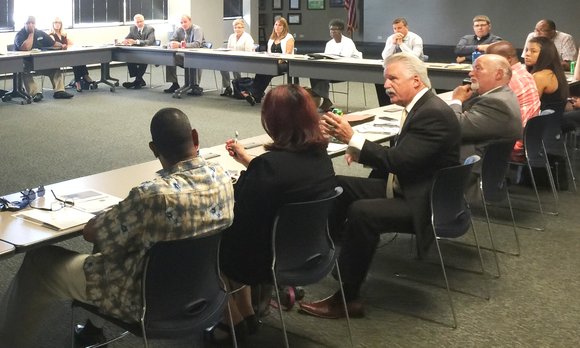 The Will County State's Attorney's Office provided this news release:
Just before the start of the school year, Joliet Township High School officials received the devastating news that the mental health portion of the Youth Experiencing Success in School (YESS) program was to be eliminated.
Valuable mental health services are provided on-site at the high school campuses through the Will County Health Department as part of the YESS program. The Health Department began providing mental health services on-site at Joliet Central and West High School in 2005 as part of the YESS program, which was made possible through a five-year grant.
"Although the grant expired in 2010, the Will County Health Department remained committed to providing in-school counseling and mental health services through a full-time licensed clinician who supervises about 10 interns at both campuses," said JTHS Superintendent Dr. Cheryl McCarthy.

"These valuable services have yielded amazing results since 2005, so when we learned the program was in jeopardy, we knew we had to take action."
McCarthy called on the community for help, bringing together YESS partners and community leaders for a meeting in early August. "We had to put our heads together to figure out a way to continue the services," said McCarthy. "We know the program works, and we didn't want to see a change in supports for our students."
The positive change in school climate has been drastic.

"Since 2005, fighting is down 69 percent, assaults are down 27 percent, and expulsions are down 67 percent," said McCarthy. "In addition, during the 2014-2015 school year, nearly 300 students received mental health services through the program and there was a 100 percent graduation rate for the seniors in the program. This is just remarkable."
To continue the program for the 2015-2016 school year, at the meeting McCarthy informed community partners that $100,000 was needed. She pointed out that through the use of interns approximately $620,000 worth of services are provided to JTHS students. "It's a great approach. By using interns we are able to maximize our services for a fraction of the cost."
At that meeting, Will County States Attorney James Glasgow, a YESS partner since the program's inception, immediately contributed $10,000 in emergency funding to keep the program operating while community leaders worked on filling the $90,000 gap. State's Attorney Glasgow used forfeiture funding, which is money seized from offenders who were using it to conduct criminal enterprises, to pay for the program.
"The value of this program is tremendous when you consider the many benefits it brings to individual students, the Joliet Township High School District and the entire community," Glasgow said.
"Our investment in YESS pays back immense dividends when you provide struggling students the counseling and assistance necessary to complete their homework and succeed in school. Those students will become valuable members of our community. The other option – to allow these students to fail – is something we can never consider when we have a proven and effective resource like YESS available to us."