Sanaa Lathan "The Perfect Guy" Interview
Kam Williams | 9/9/2015, 9:26 p.m.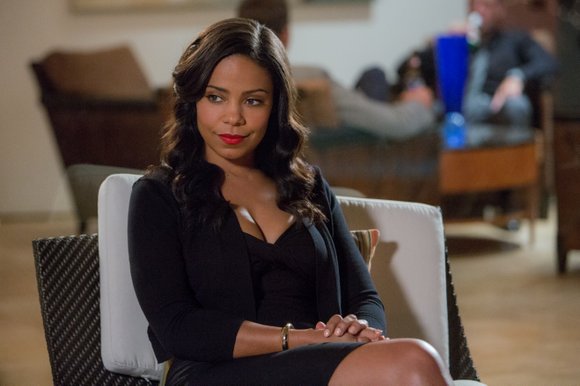 The Perfect Gal!
Tony-Award nominee Sanaa Lathan delivers a striking presence and undeniable energy to each project she takes on and continues to build on an already impressive career. She recently completed production on two films.
In the independent feature, Ad Inexplorata, she plays Emily Maddox, a captain on one of four spaceships making a one-way trip to Mars. The film, which was developed in the Sundance Lab, also stars Mark Strong and Luke Wilson. In the highly anticipated sequel, Now You See Me 2, Sanaa plays FBI Agent Natalie Austin in an ensemble cast that includes Jesse Eisenberg, Mark Ruffalo, Woody Harrelson, Daniel Radcliffe, Michael Caine and Morgan Freeman.
It was recently announced that she will star in and executive produce the screen adaptation of Omar Tyree's "Flyy Girl" trilogy. Most recently, she was seen in the smash hit, The Best Man Holiday with Taye Diggs, Terrence Howard, Regina Hall and Morris Chestnut.
Sanaa starred in the title role in the play "By The Way, Meet Vera Stark" at The Geffen Playhouse in Los Angeles, a role she originated at the Second Stage Theatre in New York. She received the Lucille Lortel Award for Best Actress for her leading role in the play. Prior to that, Lathan starred as "Maggie the Cat" in the West End (London) in the critically-acclaimed and Olivier Award-winning revival of "Cat on a Hot Tin Roof."
Among her other film credits include Contagion directed by Steven Soderbergh; Something New opposite Simon Baker; Tyler Perry's The Family that Preys; A Wonderful World opposite Matthew Broderick; Brown Sugar alongside Taye Diggs, Queen Latifah and Mos Def; Love and Basketball with Omar Epps; and The Best Man, one of the highest grossing African-American films in history.
Here, Sanaa talks about her latest outing opposite Michael Ealy and Morris Chestnut in the psychological thriller The Perfect Guy.
Kam Williams: Hi Sanaa, thanks for the time. I'm honored to have another opportunity to speak with you.
Sanaa Lathan: My pleasure, Kam.
KW: I told my readers I'd be interviewing you, so I'll be mixing their questions in with mine.
SL: Okay, fabulous!
KW: Sangeetha Subramanian says: The movie Something New makes me melt to this day.
SL: Oh, I love that!
KW: She asks: What's the difference in preparing for a thriller like The Perfect Guy?
SL: You know, there's really no difference, Sangeetha. You prepare by kind of trying to create the world of the character, and by doing rehearsals. It's really about reading the script and letting ideas come to me over and over, kind of building their history, because that will naturally inform you when you're on set.
KW: Harriet Pakula-Teweles asks: What exactly is a perfect guy? And how is your perfect guy in real life different from the one your character, Leah, is looking for in the movie?
SL: I think there is no perfect guy. I believe that to be human is to be imperfect. I find that I get to know people from the inside out. So, I don't really have a type. It's more about how I feel when I'm with them. I like people who love to communicate and who have a good sense of humor. And I like a confident man, somebody who is not afraid to stand by my side and then let me shine sometimes.