Rialto's new 'Twas the Month before Christmas' festival announced
9/10/2015, 8:07 a.m.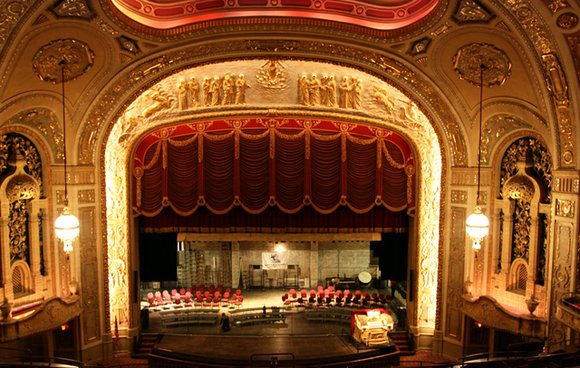 The Rialto Square Theatre provided this information:
Twas the Month Before Christmas….at the Rialto! is the new holiday extravaganza that will replace the Festival of Trees at the Rialto Square Theatre in Joliet.

The decision to replace Festival of Trees at the Rialto was based upon several significant factors, some of which included a steady decrease in winning tree bid amounts, input from customers to move or extend the activities within Festival of Trees and a re-branding to keep things fresh.

Twas the Month Before Christmas will offer 14 special events between Nov. 25 and Dec. 20 and the theater will be decorated with 30 holiday wreaths designed by the area's top decorators that will be sold via public auction.
The Joliet Area Community Lights of Love tree lighting ceremony will be held from 5 to 7 p.m. Nov. 25. The ceremony is a time to honor and remember family and friends during this special holiday season.
The ever-popular Teddy Bear Tea returns Nov. 27 with the newly added Santa's Workshop. This special brunch features delicious food and fun, complete with a special appearance by St. Nick and a keepsake Rialto bear for each child. There will be a seating at 9:30 and 11:30 a.m.

Reservations are needed and fill up quickly so get your tickets before all spaces are gone. Tickets are $25 for adults and $22.50 for children 12 and under. Also included with your Teddy Bear Tea reservations is the Dave Rudolf - Christmas with Rudolf Family Show and entry into the showing of "The Lego Movie."
Dave Rudolf - Christmas with Rudolf Family Show will hit the stage at 2 p.m. Nov. 27, and features kids twisting to the "Candy Cane Twist," hula hooping to "Santa's Got A Zoot Suit," and Christmas parodies such as "Oh Come, Oh Come I Read The Manuel" and "Frosty The Slow Man." General admission tickets are $10.
Also on Nov. 27th is a 3:30 p.m. showing of the animated "The Lego Movie." An ordinary guy named Emmet (Chris Pratt) is mistaken as being the Master Builder, the one who can save the universe. With the aid of an old mystic Vitruvius (Morgan Freeman), a tough young lady named Lucy (Elizabeth Banks), and Batman (Will Arnett), Emmet will fight to defeat the evil tyrant Lord Business (Will Ferrell) who is bent on destroying the universe by gluing it together. General Admission tickets are $1.
Von Heidecke's Chicago Festival Ballet's "The Nutcracker" will be presented at 2 p.m. Nov. 29. The magical production features lavish costumes, a growing Christmas tree, a battle between mice and soldiers, a journey through the land of whirling snowflakes and a visit to the Kingdom of the Sugar Plum Fairy. Tickets range in price from $32 to $40 for adults and $20.50 for children 12 and under.
A new addition this year is the Punch Brothers concert at 7:30 p.m. Dec. 2. Punch Brothers' latest album, "The Phosphorescent Blues," produced by T-Bone Burnett, addresses with straight-up poignancy and subversive humor the power and the pitfalls of our super-connected era.