Spaghetti Pizza
9/14/2015, 1:42 a.m.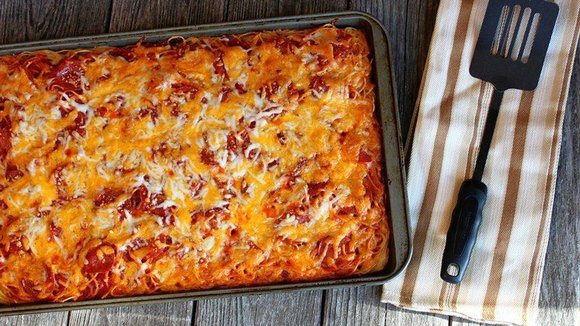 SERVINGS: 8
Ingredients
Crust
1 lb uncooked spaghetti
2/3 cup milk
2 eggs
1/2 teaspoon salt
1/2 teaspoon garlic salt
1 cup shredded Cheddar cheese (4 oz)
1 cup shredded mozzarella cheese (4 oz)
Toppings
1 jar (25.5 oz) marinara sauce
1 package pepperoni
1 cup Cheddar cheese (4 oz)
1 cup mozzarella cheese (4 oz)
Directions
Heat oven to 400°F. Grease 15x10x1-inch pan.
Cook spaghetti in large pot as directed on package. Drain, and quickly rinse spaghetti and pot with cool water.
In small bowl, beat milk, eggs and salts with whisk. Add to spaghetti, along with 1 cup Cheddar and 1 cup mozzarella, and stir to combine. Pour onto pan; bake 15 minutes.
Reduce oven temperature to 350°F. Top with Toppings. Bake at 350°F 25 to 30 minutes or until cheese is bubbly. Serve immediately.