Easy Quesadilla Enchiladas
9/15/2015, 1:03 a.m.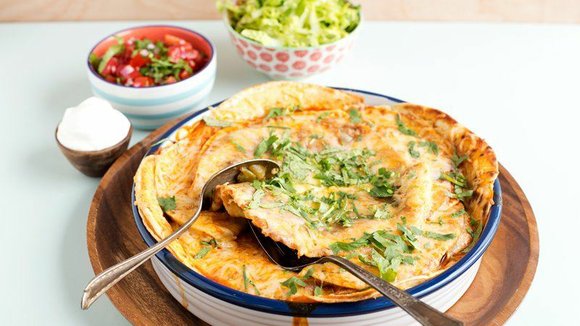 SERVINGS: 6
Ingredients
1 can (10 oz) enchilada sauce
Canola oil
10 flour tortillas for soft tacos & fajitas (6 inch)
2 1/2 cups shredded Mexican blend cheese (10 oz)
1 can (4.5 oz) chopped green chiles
Chopped fresh cilantro, pico de gallo and sour cream, as desired
Directions
Heat oven to 375°F. Spoon a few tablespoons enchilada sauce in bottom of 9-inch pie plate; set aside.
Heat 10-inch nonstick skillet over medium-high heat; coat bottom of skillet lightly with canola oil.
Fold 2 tortillas in half to make half-moons, and place in skillet. Carefully open tortillas, and place 3 tablespoons cheese in each tortilla, along with a small spoonful of green chiles, and fold the tops over. Cook quesadillas on each side until golden and cheese is melty; remove from skillet. Repeat 4 times.
Shingle quesadillas into pie plate, overlapping each a bit. Spoon remaining enchilada sauce over quesadillas, letting it seep between each quesadilla; sprinkle remaining cheese over top, and place pie plate on cookie sheet.
Bake about 20 minutes or until edges begin to brown and sauce and cheese are bubbling. Cool about 5 minutes before serving. Serve with remaining ingredients.