Walsh continues effort to protect Illinois energy jobs
9/16/2015, 8:06 a.m.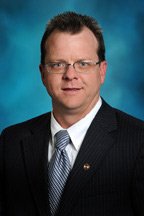 State Rep. Larry Walsh, Jr., D-Elwood, welcomed a move by Exelon that will keep thousands of Illinois workers on the job Thursday, and stressed the need for legislation that will help energy producers create and retain jobs in Illinois.
"Exelon's decision to keep two major power plants in Illinois up and running for at least another year is great news for the thousands of families for whom these plants provide good-paying jobs, but more work must be done," Walsh said. "Illinois needs to focus on incentivizing energy production and protecting this important sector of our economy for years to come."
Exelon announced recently that they will continue to operate power plants in the Quad Cities and Byron, Ill. until at least next year. The energy producer had been considering closing the two plants, along with a third facility in Clinton, Ill., which would have resulted in the loss of 8,000 jobs and taken $1.8 billion out of the state economy. While the announcement temporarily averts the closure of the facilities in the Quad Cities and Byron, Walsh is urging fellow legislators to join him in investing in the sustained success of Illinois' energy producing businesses.
Working in conjunction with Exelon to protect jobs and encourage growth, Walsh introduced House Bill 3293 earlier this year, which would increase the use of clean, low-carbon energy sources in Illinois and provide a boost to energy producers. Under Walsh's measure, 70 percent of the electricity distributed by ComEd and Ameren would be supplied from low-carbon sources, including nuclear, wind, hydro, solar, and clean coal energy sources. Exelon believes this bill would help keep their plants open long-term.
"Ensuring we create and retain good paying jobs is vital to Illinois' long-term success and this bill will help us protect one of the largest sectors of our state's economy," Walsh said. "By recognizing that economic growth is the best solution to the budget challenges facing the state, this bill should be an important step toward putting Illinois back on track."