Plainfield homecoming parade, Harvest 5K -- what you need to know
9/21/2015, 11:12 a.m.
Plainfield's going to be one busy place this coming weekend with big back-to-back events -- the annual homecoming parade and the Harvest 5K race -- bringing hundreds of people downtown.
Here's what you need to know about where to go and what to avoid on both days, courtesy of the Plainfield Police Department and District 202: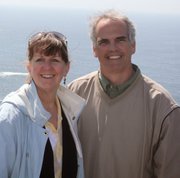 Community Homecoming Parade
The 2015 Plainfield Community Homecoming Parade is scheduled for Saturday, Sept. 26. It steps off at 9 a.m. at the corner of Lockport Street and Van Dyke Road.
This year's parade grand marshals are Bill and Linda Hanley, who have been part of the Plainfield community for more than 20 years and longtime District 202 volunteers. Their five children attended Central Elementary School, Indian Trail Middle School and PCHS.
Police warn that the parade will cause traffic congestion and delays in and around Plainfield, as well as Plainfield Central High School.

Unless participating in or viewing the parade, motorists are asked to avoid the downtown area between 7:30 a.m. and noon because of the slowed traffic movement and road closures.
At 6 a.m. Saturday, police will begin closing Ottawa Street (west of the DuPage River) between Van Dyke Road and Ira Jones Middle School, 15320 Wallin Drive. The school and Village Center Drive, near the Plainfield Village Hall, will be used for controlled access for parade entries.
The following roadways will be closed at about 8:15 a.m.:
Route 126 (Lockport and Main streets) at Wallin Drive, to Route 59
Lockport Street from James Street to Route 59
James Street from Lockport Street to Fort Beggs Drive
Ottawa Street (east of DuPage River) from James Street to Illinois Street
Fox River Street from Lockport Street to Commercial Street
Des Plaines Street from Lockport Street to Commercial Street
Illinois Street from Lockport Street to Commercial Street
Commercial Street from Illinois Street to James Street
Fort Beggs Drive from James Street to Pratt Lane
No traffic lanes on Route 59 will be closed, however motorists should be advised that traffic congestion and delays are expected. All roads are expected to re-open between 11:30 a.m. and 12 p.m.
Parade staging and line-up has been designated at the following locations:
Band drop-off (buses) at Riverfront Park.
All Youth Sports Clubs -- staging will be in the field directly east of Ira Jones Middle School. Participants should enter the school by accessing Wallin Drive (YMCA) off Route 126 (Lockport Street).
Homecoming Court, escort vehicles, designated VIPs -- staging at Dreyer Medical Clinic.
All other parade entries -- enter Wallin Drive (YMCA) from Lockport Street (Route 126) and proceed to Ottawa Street at the intersection with Ira Jones Middle School.
The parade will begin at Van Dyke Road and Lockport Street at 9 a.m. It will travel east on Lockport Street and go south on Illinois Street. The route then goes west on Commercial Street and south on James Street, where it concludes at Fort Beggs Drive.

At the conclusion of the parade, band/bus pickup and float parking will be in the south side Fort Beggs High School parking lot. Any walkers from the parade may be picked up either at Renwick Community Park or on the north side of the high school. Youth Football participants will be directed to Renwick Community Park for pickup.