Pork Chops with Pear Chutney
9/24/2015, 2:29 a.m.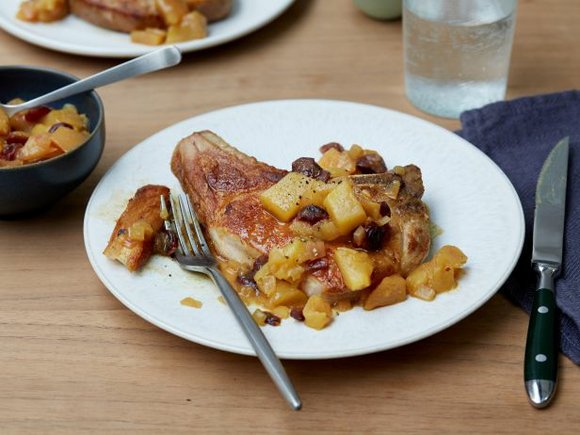 SERVINGS: 6-8
Ingredients
Chutney:
1 shallot, diced
3 tablespoons cider vinegar
2 tablespoons light brown sugar
1 tablespoon unsalted butter
1 1 -inch piece peeled fresh ginger, cut into coins
1 teaspoon Madras curry powder
1 cinnamon stick
Kosher salt
Pinch crushed red pepper
3 pears, peeled, cored, and cut in large dice
2 tablespoons dried cranberries
2 tablespoons chopped fresh cilantro
Chops:
8 thin bone-in pork chops, each about 4 ounces
Kosher salt and freshly ground black pepper
2 tablespoons vegetable oil
Directions
For chutney: In medium microwave-safe bowl, stir together shallot, vinegar, brown sugar, butter, ginger, curry powder, cinnamon stick, 1/4 teaspoon salt, and red pepper. Cover and seal with plastic wrap and heat in microwave oven on HIGH for 1 minute. Carefully remove plastic wrap and stir in pears and cranberries. Re-cover and microwave for 10 minutes more. Carefully poke holes in plastic wrap to release steam and set aside.
For pork chops: Heat a large skillet over medium-high heat. Pat pork chops dry and season with salt and pepper to taste. Add 1 tablespoon oil to pan and heat until shimmering. Lay 4 chops in pan and sear until golden on one side, about 3 minutes. Turn and cook 1 more minute. Remove from pan; set aside and keep warm. Repeat with remaining oil and chops. Add chutney to pan and, scrape up any brown bits from bottom using a wooden spoon. Simmer until slightly thickened. Stir in cilantro. Serve chops with chutney.