2016 Lexus LX 570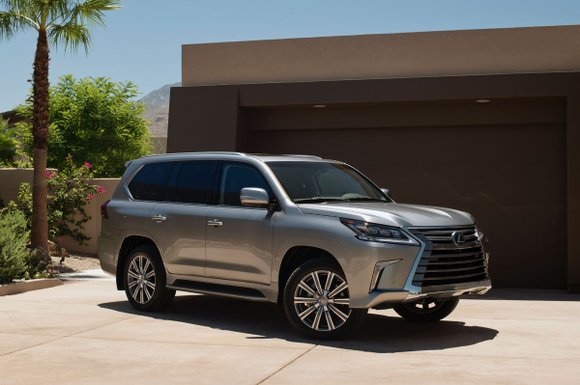 Big, bodacious, powerful and luxurious sport-utilities were thought to be out of style, sent to that big parking lot in the sky because of skyrocketing fuel costs. But not so fast. Ridiculously low gasoline prices the last couple of years, premium fuel averaged $2.24 gallon when this was written, has breathed new life into the segment.
That may have been an incentive for Lexus to redesign its flagship people hauler, the LX (now) 570. This was brawn encased in sheet metal and swathed in leather and wood trim. Only the door panels survived the makeover.
There was Lexus' spindle grille framed by satin chrome trim and new LED automatic bright headlights, turn signals and fog lights. Customers now have a choice of 20 or 21-inch wheels. We had 20-inchers. The taillights and rear bumper also got a redo.
A Lexus LX 570 is big. Our test vehicle could seat eight, it weighed three tons, that's 6,000 lbs., and it had an engine that could move that mass relatively easily. Powered by a 5.7-liter V8 that made 383 horsepower and 403 pound-feet of torque, the sport utility could tow 7,000 lbs.
Gas mileage, well, it was not a strong suit. The 2016 Lexus LX 570 had an EPA fuel rating of 13 mpg in the city, 18 mpg on the highway and 15 mpg combined. It is not a justification but you have to consider that with a base price of $88,880, the price of fuel has to be a lot higher for it to be a deterrent to purchasing an LX 570 or anything else in this full-size luxury utility segment.
That much weight and that much power needed a sophisticated suspension system to keep it all under control. In the front was a double wishbone independent suspension and the rear was a four-link coil spring lateral rod set up. And it had an active height control system that lowered the vehicle two-inches, making entry and exit easier.
The LX 570 had the driver mode select system that is used on other Lexus vehicles. We found the sport + setting and the paddle shifters kind of comical, like really? Neither seemed to match up with the demographic for this vehicle.
Still, the system controlled responses of the adaptive variable suspension which continually adjusted the shock absorbers' damping rates. That meant the big SUV did not bounce and float with every abrupt bump or depression in the road. In other words, the LX 570 had a very smooth ride.
Years ago a designer once said that curvy sheet metal aside, luxury is conveyed in the interior of a vehicle. That said, customers have a choice of four wood trims, a wood trimmed steering wheel, an analog clock carved from a single ingot of aluminum and it will adjust the time automatically because it is GPS based.
There was the usual culprits like cooled and heated seats in the front and heated and cooled second row seats as well. You expect a dual rear seat entertainment system with headphones, a smart key, ambient interior lighting, radar-based automatic cruise control with full stop capability, voice controls, its Enform app suite, satellite radio, HD radio, a huge infotainment system double screen, a moonroof and tire pressure monitoring.