Plainfield student teaches sign language to nursing home residents
4/11/2016, 11:32 a.m.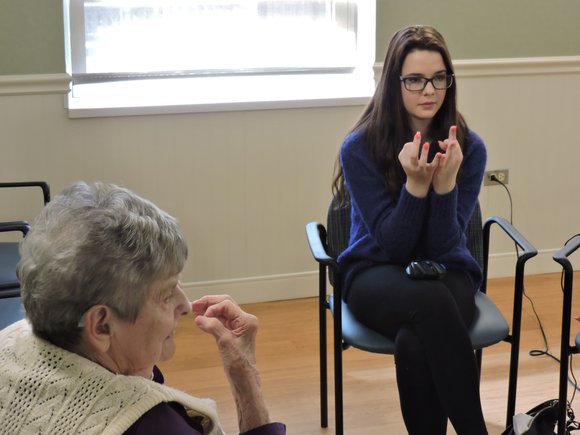 Plainfield High School's Central Campus junior Madison Curran is teaching American Sign Language phrases to residents at Sunny Hill Nursing Home of Will County
Curran, 16, works weekly with residents teaching them phrases such as bathroom, emergency, food and stop. More than 80 percent of the Sunny Hill population is deaf or hard of hearing.
Curran is a familiar sight at the nursing home where she already volunteers, serving ice cream and performing Irish dancing.
As part of those activities, she noticed many of the residents had trouble talking to staff members because of their hearing loss and loss of fine motor skills.
"It really hurts to see them suffering from the lack of communication," Curran said. "Everybody deserves that voice."
Curran, who was introduced to sign language in first grade, asked Sunny Hill's activity director and volunteer coordinator Danette Krieger if she could teach the staff and residents simple phrases in sign language.
Krieger was immediately on board with the idea.
"If there's a way for (the residents) to communicate their basic needs this is a great resource for them," she said.
Rebecca Dudek, who has taught Curran for three years in her American Sign Language class said Curran has been able to use her sign language outside of the classroom.
"Madison enjoys learning sign language and is focused on what lies ahead for her future," Dudek said.
Curran's mom Penny said her daughter is a determined person. If she sees a need, she'll address it, Penny said.
"She doesn't understand being selfish," Penny Curran said.