Honey Dijon Pork Tenderloin with Asparagus
4/13/2016, 11:17 a.m.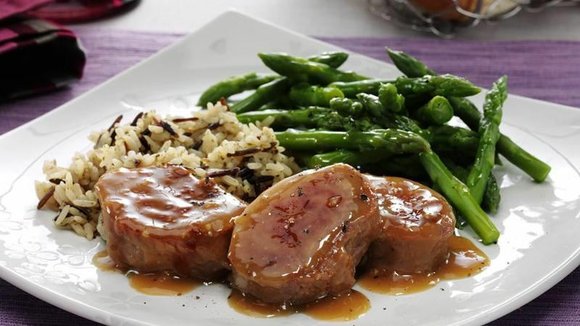 SERVINGS: 4
Ingredients
1 Reynolds® Oven Bag, Large Size
2 tablespoons cornstarch
1/3 cup honey
¼ cup Dijon-style mustard
1 tablespoon Worcestershire sauce
½ teaspoon salt
½ teaspoon pepper
1 (1 lb.) pork tenderloin, excess fat and silver skin removed*
1 lb. fresh asparagus spears, cut into thirds
1/3 cup chopped toasted pecans (optional)
Directions
1 Preheat oven to 400ºF. Place Reynolds® Oven Bag in 13x9x2-inch baking pan.
2 Add corn starch, honey, mustard, Worcestershire sauce, salt and pepper to oven bag. Squeeze bag to mix ingredients.
3 Slice pork tenderloin 1-inch thick. Place pork and asparagus in bag. Turn bag several times to coat pork and asparagus with sauce. Place ingredients in an even layer.
4 Close bag with nylon tie. Cut six 1/2-inch slits in top. Tuck ends of bag in pan.
5 Bake 12 to 14 minutes or until pork reads 145ºF on thermometer. Let stand 5 minutes. Carefully cut bag open and serve. Garnish if desired.