KICKS IN WORLD PREMIERE, US NARRATIVE COMPETITION AT TRIBECA 2016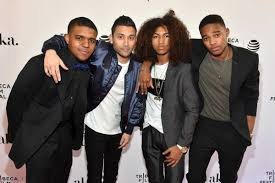 Freshman director Justin Tipping says he used his personal experience to develop the story behind his debut feature narrative film KICKS. Growing up in the hard-scrabble streets of Oakland, California, in San Francisco's East Bay area, Tipping was assaulted by a group of neighborhood toughs when he was seen wearing a pair of expensive Nikes. "I remember feeling absolutely destroyed. My older brother said, 'Oh, it's okay, you're a man now.' In that moment I was somehow really proud that I'd been through a rite of passage. But when I had time to reflect on it, I couldn't disagree more with how backwards our idea of what it means to become a man and masculinity is, for me to have just been the subject of nonsensical violence."
His experience led him to develop the film Kicks, with his writing partner, Joshua Beirne-Golden (currently, in post-production for Universal's Lowriders, due for summer release and NANI, world premiered at the Berlin International Film Festival).
KICKS tells the story of Brandon (actor, rapper, former national tv commercial child star and Junior Olympic track champion Jahking Guillory-in fact, the film begins and ends with a scene of him running) who is jacked up by by the town bullies in his native West Oakland and robbed of his pair of rare Air Jordan's. The neighborhood tough, Flaco (a stellar Kofi Siriboe, the great grandson of a Ghanaian King who debuted in Ice Cube's "The Longshots" and acted in the Academy Award winning film "Whiplash") snatches Brandon's precious Air Jordan 1 sneakers. The movie is then set in motion with Brandon and his sidekicks Albert (Christopher Jordan Wallace; Will Ferrell's "Everything Must Go," also played the younger version of the rapper Notorious B.I.G. in the film "Notorious") and Rico (Christopher Meyer, currently seen in the second season of the Fox hit mid-season series "Wayward Pines") set out to retrieve the sneakers.
The overriding sense of the film is the obsessive nature of the sneaker-fetishizing subculture that permeates poor communities around the country, where young people are willing to maim and kill each other over a pair of sneakers. Many of the shoes costing $200 - $300, in communities where poor housing and the lack of educational and employment opportunity is rampant.
The realism of the violence and the message it brings home is executed with stunning clarity. The unfortunate reality is that, even as this film plays on the screen at Tribeca, the exact same drama is unfolding somewhere in the streets of America. Tipping and his filmmaking team do an excellent job of driving the message home in a simple story well told. Hopefully, the parable he portrays in KICKS will make a lasting impression on audiences. For additional Tribeca screening times and locations, visit tribecafilm.com.