Mediterranean Tuna Melts
4/19/2016, 11:02 a.m.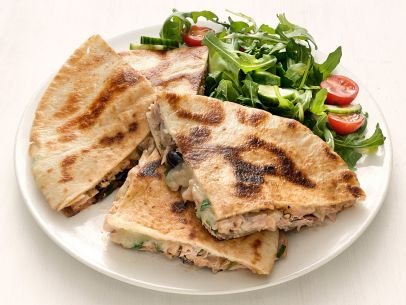 SERVINGS: 4
Ingredients
3 7 -ounce cans oil-packed light tuna
1/2 cup chopped fresh parsley
1/4 cup pitted kalamata olives, chopped
1/2 small red onion, thinly sliced
Juice of 1 lemon
1/4 teaspoon smoked paprika
Kosher salt and freshly ground pepper
4 whole pitas, each split into 2 rounds
4 ounces muenster or halloumi cheese, thinly sliced
3 tablespoons extra-virgin olive oil
3 cups baby arugula
1 pint cherry tomatoes, halved
2 cucumbers, halved lengthwise and thinly sliced
Directions
Preheat the oven to 350 degrees F. Drain the tuna, reserving 2 tablespoons oil. Toss the tuna, reserved oil, 1/4 cup parsley, the olives, red onion, the juice of 1/2 lemon, the smoked paprika, a pinch of salt and a few grinds of pepper in a medium bowl. Spread the tuna salad on 4 of the pita halves; top with the cheese and the remaining pita halves.
Heat 2 teaspoons olive oil in a large nonstick skillet over medium-high heat. One at a time, add the sandwiches and cook until lightly toasted, about 2 minutes per side. Transfer to a baking sheet and bake until warmed through, about 5 minutes.
Meanwhile, toss the arugula, tomatoes, cucumbers, the remaining 1/4 cup parsley, 2 tablespoons plus 1 teaspoon olive oil and the juice of the remaining 1/2 lemon in a medium bowl; season with salt and pepper. Cut the tuna melts into wedges. Serve with the arugula salad.