Lockport mayor says city has 'momentum'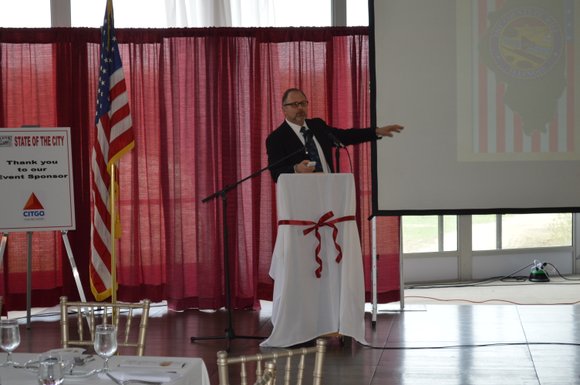 The -reopening of the Volz building as Embers Tap House late last year has piqued the interest of developers who are interested in setting up shop in the City of Lockport.
That's according to Mayor Steve Streit who in his state of the city address this week said that the city council took some heat for investing $300,000 in the building and then selling it for only $10.
However, that investment, and the seeming loss for the city eventually resulted in about $1.6 million in upgrades to the building which now serves as big draw to the city's downtown business district. And since the project drew about 80% of its contractors from local talent, it also quickly re-invested funds back into the local economy as well.
"That's where the money went, right back in to the community," Streit told the lunch time crowd.
Additional development has also revved up around town including interest by a national chain to re-develop the old Pete's Hot Dogs location. In all, Streit said that he's seen a record number of letters of intent come in to the city from developers looking to be part of Lockport. Though the projects are still far off from their "ribbon cuttings", Streit said that the letters are a good sign.
"These are serious people," said the mayor.
Another bright spot for the city has been its new housing sector which continues to buck the trend at the national level which has experienced a slowdown recently. He points to new housing starts at the Sagebrook and Highlands developments. The continued housing growth also helps to attract more commercial and retail development he said.
"They all want to know what the housing starts are like so now we can tell them it's all in the plus column," he said.
The city will see some big names coming to town in 2016 including LG, RJW Transport, American Fire Training Systems, and UPS which will build a distribution facility in the 355 Corporate Center. Julian Electric will also to move its company headquarters to Lockport along with a manufacturing facility.
The city also bested St. Louis and Naperville in attracting Magenta LLC, a plastics injection molding manufacturer that will relocate from Chicago to a 122,500 square foot facility on New Ave.
"I love places that make things," said the mayor.
The city also saw healthy growth on its retail side in 2015 with 29 new businesses opening and development finally restarting in some locations that were stalled during the recession.
The foreclosed Lockport Square site is showing signs of life with a new Mattress Firm store, AT&T and Sports Clips. Work has also begun on the construction of a new Heartland Dental location and a Murphy Express gas station along with 4 retail outlots on South Farrell Road.
"Now we have good momentum," he said.
That momentum will be challenged by a downtown road project in 2017 that will see IDOT completing a $2.2 million overhaul of State Street between 8th and 10th Avenues said Streit. Work will include widening and the addition of turn lanes as well as new sidewalks.
"It's a very big project that's coming in 2017," said Streit.
Streit said that the city will spend 2016 getting prepared by reaching out to businesses owners and providing as much support as possible including additional signage for parking and how to access stores. The city will also include outreach to residents to let them know about the project.
The mayor said that he's seen other towns go through major renovations to their downtowns and knows that "they can be very painful so we want to be as well prepared as possible."
Work will include filling some unused vaults below the sidewalks, a refurbishing and cleaning up of Commerce Street so that people can access businesses from the rear, as well as temporary parking at Dellwood Tire
"We're going to continue to do the prep work in order for this big project in 2017 to go as smoothly as possible," he said.