Bold Sriracha Beef Burritos
4/26/2016, 2:21 p.m.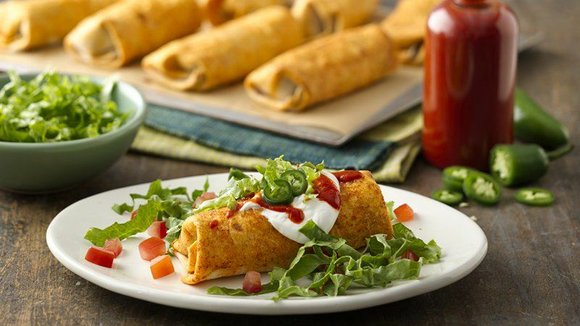 SERVINGS: 8
Ingredients
1 lb lean (at least 80%) ground beef
1 tablespoon plus 1 teaspoon taco seasoning mix (from 1-oz package)
6 tablespoons Sriracha sauce
1 can (4.5 oz) chopped green chiles
1 cup frozen cooked rice, heated as directed on package
1 cup canned refried beans
1 package (11 oz) flour tortillas for burritos (8 inch)
3/4 cup shredded Cheddar cheese (3 oz)
2 tablespoons vegetable oil
Directions
• 1 Heat oven to 375°F. Line cookie sheet with foil.
• 2 In 10-inch nonstick skillet, cook beef over medium-high heat 5 to 7 minutes, stirring frequently, until thoroughly cooked; drain. Stir in 1 tablespoon of the taco seasoning mix, 2 tablespoons of the Sriracha sauce, the chiles, rice and beans.
• 3 Place tortillas on work surface. Brush one side of each tortilla with remaining Sriracha sauce. Spoon heaping 1/3 cup bean mixture down center of each tortilla; sprinkle heaping tablespoonful cheese over filling. Fold in ends of each tortilla; fold sides toward center, overlapping edges. Place seam-side down on cookie sheet.
• 4 In small bowl, mix oil and 1 teaspoon taco seasoning mix. Brush oil mixture on tops of burritos. Bake 12 to 15 minutes or until heated through.