Chipotle Chicken Quesadillas
4/26/2016, 2:23 p.m.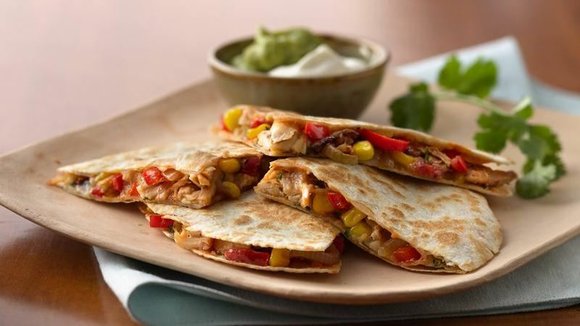 SERVINGS: 3
Ingredients
3 tablespoons olive oil
1/2 red bell pepper, cut into thin strips
1/2 large onion, thinly sliced
1/2 cup frozen corn
1 1/2 cups shredded cooked chicken
1 cup shredded Monterey Jack cheese (2 oz)
1 tablespoon finely chopped chipotle chile in adobo sauce (from 7-oz can)
2 tablespoons chopped cilantro
6 (8-inch) flour tortillas
6 tablespoons Salsa
Directions
• 1 In 10-inch nonstick skillet, heat 1 tablespoon of the oil over medium-high heat. Add bell pepper, onion and corn; cook, stirring occasionally, 4 to 5 minutes or until bell pepper and onion is softened. Remove from heat; stir in chicken, cheese, chipotle chile and cilantro.
• 2 Brush one side of each tortilla with remaining 2 tablespoons oil. With oiled side down, spread 2 tablespoons salsa onto each of 3 tortillas. Spread about 1 cup of chicken mixture on each tortilla over salsa. Top each with remaining tortillas, oiled side up.
• 3 Heat 10-inch nonstick skillet over medium heat. Cook 1 quesadilla at a time 1 to 2 minutes on each side or until tortilla is golden brown and cheese is melted. Cut each quesadilla in half.