Shorewood Lions Club recognizes Troy students of the month
4/29/2016, 11:47 a.m.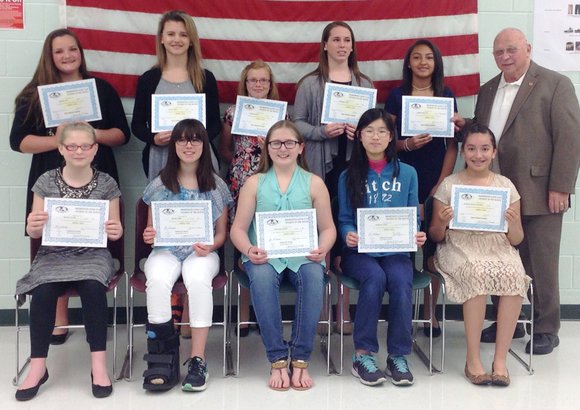 The Shorewood Lions Club recognized Troy Community School District 30-C Students of the Month for March 2016. The students were recognized at the school board's April school board meeting.
Chairman of the Shorewood Lions Student of the Month Program, James S. McDonald, said the students were selected on the basis of consistent effort, productive citizenship, positive attitude, participation in class and advisory team.
The Students of the Month are W.B. Orenic Intermediate School 6th-graders Mollie Flynn, daughter of Dena Flynn; Kelsey Kobe, daughter of Eric and Lisa Kobe; Kayla Betlejeski, daughter of Thomas and Carlotta Betlejeski; and accelerated student Isabella Chen, daughter of Xiong Zheng and Hong Pan.
Troy Middle School Students of the Month are 7th-graders Jasmin Torres, daughter of Ricardo and Sandra Torres; Pamela Chavez-Cazares, daughter of Alfredo and Dora Chavez; Morgan Slavicek, daughter of Kenneth Jr. and Jennifer Slavicek; Jessica Kyd, daughter of Rob and Ginny Kyd; and accelerated student Aidan Brown, son of Michael and Shelbi Brown.
Troy Middle School 8th-grade Students of the Month are Olivia Kirin, daughter of Karl and Dawn Kirin; Lindsay Krefft, daughter of Keith and Kristen Krefft; Kiernan Papp, daughter of Richard and Sara Papp; Andres Ceballos, son of Jesus and Rosa Ceballos; and Accelerated student Jasmine Jackson, daughter of Zedrick and Mary Jackson.
In addition to certificates from both sponsors, the students received awards from the merchants Babes Hot Dogs Restaurant, McDonalds Restaurant, Pizza for U Restaurant and Buffalo Wild Wings Restaurant.
The Shorewood Lions Club also helps any needy person in Troy Township who has a sight or hearing problem to get glasses, hearing aids and other related equipment, including seeing eye dogs. They will also help sight- or hearing-impaired children sign up for Camp Lions in the summer. Phone Jim McDonald at (815) 725-0473 or e-mail him at Dimac13@comcast.net for further information.
Photo attached: Shorewood Lions Club /Troy Community School District 30-C Students of The Month for March, 2016 are, seated from left, 6th-graders Mollie Flynn, Kelsey Kobe, Kayla Betlejeski, and Isabella Chen; and 7th-grader Pamela Chavez-Cazares. Standing from left: 7th-grader Jessica Kyd and 8th-graders Olivia Kirin, Lindsay Krefft, Kiernan Papp and Jasmine Jackson with James McDonald of the Shorewood Lions Club. (Not pictured are 7th-graders Jasmin Torres, Morgan Slavicek, Aidan Brown and 8th-grader Andres Ceballos.)