Shorewood's annual Crossroads Festival begins Aug. 5
Marianne Eisenbrandt | 8/1/2016, midnight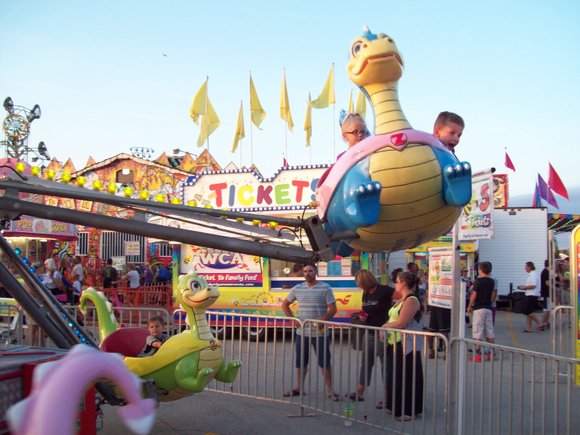 The annual Shorewood Crossroads Festival has grown from a one day event to celebrate the nation's bicentennial to three day of fun, food, fireworks, festivities and so much more.
A variety of activities geared for the young, as well as the young at heart, will take place Aug. 5-7 in Cene's Four Seasons Park, 25520 W. Seil Road (west of River Road).
The festival is brought to the community by the Shorewood Area Chamber of Commerce. The presenting sponsor is Heartland Bank and Trust Company.
The fest kicks off at 1 p.m. Friday with a carnival pre-party for families with special needs children. The fest officially opens at 4 p.m. with Shorewood Mayor Richard Chapman's grand opening ribbon cutting ceremony.
The carnival, food vendors, beer garden, and entertainment can be found over the three day festival. Kids will be delighted by the fact that the fest will feature an unlimited carnival ride $25 wristband 4-8 p.m. Friday, and 1-5 p.m. Saturday and Sunday.
Eat Street will feature a variety of taste tempting foods. Vendors include Savarino's Pizza, Taco Burrito King, Pam's Academy of Dance, Genoa Italian Concession, Cheesecakes by James, Johnson Bros. Concessions, Lone Star Steakhouse, Pizza For U, and TS Concessions.
Friday's opening band is "Brass from the Past" from 6 to 9 p.m. followed at 9:30 p.m. by the Headliner Band Libido Funk Circus, playing popular music from the days of Motown to last week's Billboard charts.
Saturday opens at 10 a.m. with the Kiwanis Baby Contest. Noon finds the opening of the Kids Zone, Craft & Vendor Expo, carnival, Eat Street, entertainment/beer tent, Pie Eating Contest and Jim Delaney Allstate Insurance Agency Bags Tournament.
Other activities include the Hot Dog Eating Contest, 26-foot climbing wall, Mun's Korean Martial Arts Demo, Hot Wings Eating Contest, YMCA Thrive Dance Team, and 9 p.m. fireworks.
The evening entertainment begins at 5 p.m. with the popular band Strung Out. From 10 p.m. to 1 a.m. the headliner band Hi Infidelity will take center stage. Come listen to some great classic to current rock tunes.
The annual Shorewood Crossroads Festival Parade steps off at noon on Sunday. Grand Marshals are LaVerne Spencer and Susan Spencer (Spencer's Jewelry of Shorewood).
The Classic & Custom Car Show runs from noon to 4 p.m., Shorewood Hypnosis from 1-2 p.m. and the free petting zoo from 1-5 p.m.
Sunday is "Country Day" and the featured band is Back Country Roads performing from 2:30 to 6 p.m. The band plays the current top 40 country hits, with a few older selections and some originals thrown in the mix as well. Crossroads Festival 2016 closes at 7 p.m.
For more information on the fest or for applications for the various events go to www.crossroadsfest.com or call the chamber at 815-725-2900.