Will County Health Clinic extending hours for Back to School Shots
8/1/2016, 8 a.m.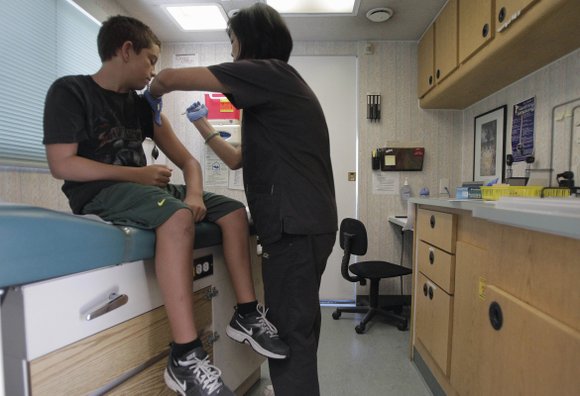 With the first day of school just weeks away, the Will County Health Department is extending hours from August 1 – 12 at its Walk-In Immunization Clinic, located at 501 Ella Ave. in Joliet. These extended hours also support August as National Immunization Month to ensure opportunities for all children and adults to receive their necessary immunizations.

The clinic's extended hours, for the next two weeks, will be offered on Monday, Tuesday, and Thursday, 8 a.m.- 11:30 a.m. and 1 p.m. - 4 p.m.; Wednesdays 10 a.m. – noon and 1 p.m. - 6 p.m. and Fridays 8 a.m. - 11:30 a.m.

All clients must bring their current shot records to their clinic visit. Children under 18 years old must be accompanied by their parent /legal guardian. Children with no insurance, insurance that does not cover immunizations, or who have Medicaid are eligible to receive their immunizations at health department. Please bring your Medicaid card to the clinic visit. Children who have private insurance should visit their primary physician for their shots.
National Immunization Month also reminds adults to stay updated on their vaccines against disease such as influenza, pertussis, hepatitis, and pneumococcal pneumonia which can threaten their health.
"There is a misconception among many adults that vaccines are just for children," said Susan Olenek, Will County Health Department Executive Director. "In reality, you never outgrow the need for immunizations. You can take charge of your personal health and protect the people around you by asking a health care provider about the immunizations that are right for you."
Immunizations are available at the clinic year-round on a daily basis. The regular hours for the Walk-in Clinic are:
Monday, Thursday, Friday 8 a.m. - 11:30 a.m.
Tuesday 1 p.m. – 4 p.m.
Wednesday 1 p.m. - 6 p.m.


For more information about immunization services available to children and adults, contact the Will County Health Department Immunizations Desk at (815) 740-8143.