Flank Steak with Watermelon Salad
SERVINGS: 4
8/2/2016, 11 a.m.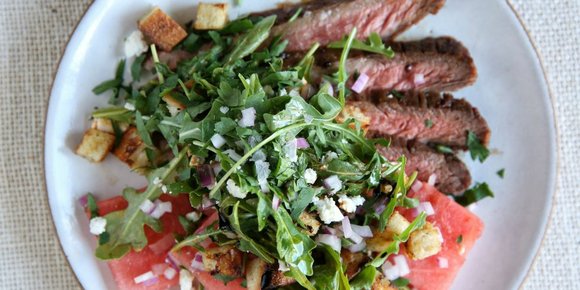 INGREDIENTS
1 tbsp. brown sugar
1 tsp. garlic powder
1 tsp. chili powder
1 1/2–2 lb. flank steak
2 tbsp. balsamic vinegar
extra-virgin olive oil
kosher salt
Freshly ground black pepper
4 c. arugula greens
1/4 c. Chopped red onion
1 c. croutons
2 c. watermelon, cut into chunks
1/2 c. feta
sea salt
DIRECTIONS
In a small bowl mix brown sugar, garlic powder, and chili powder. Massage all over steak.
Preheat grill or cast iron grill pan on high heat. Grill steak for 5 minutes on each side. Let meat rest for 3 to 4 minutes.
Meanwhile, in a large bowl mix together vinegar, 1/4 cup olive oil, 1/2 teaspoon salt, and 1/4 teaspoon pepper together. Toss in arugula, onion, croutons, and watermelon.
Slice the meat against the grain. Serve steak with watermelon panzanella salad and top with feta cheese and a sprinkle of sea salt.