Congressman Lipinski talks careers with Job Corps students
8/3/2016, midnight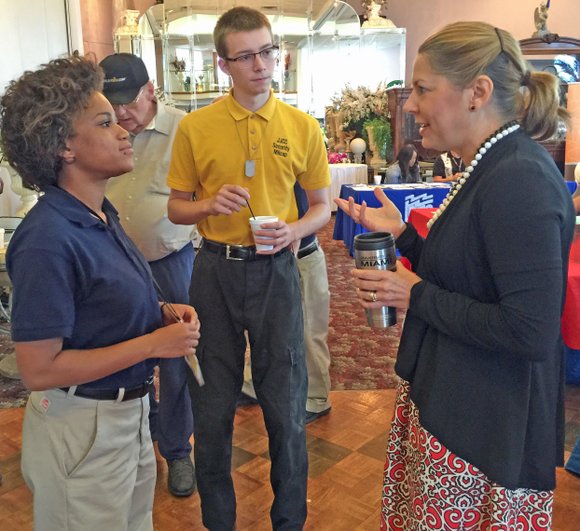 Congressman Dan Lipinski knows something about politics.
Since 2005, he's represented Illinois' 3rd congressional district, an area that includes sections of Lockport, Crest Hill and Romeoville in Will County.

So he's a good person to ask about a career in politics.
On July 25, Joliet Job Corps Center student Zachary Mead-Prunty met Lipinski at the congressman's senior fair at the Aviana Banquet Hall, 11142 Southwest Highway, Palos Hills. Mead-Prunty attended the fair as a member of Joliet Job Corps Center's Student Ambassadors, a group that works to promote a positive image of the program in the community.
"I want to go into politics," Mead-Prunty said as he shook Lipinski's hand. "What should I do?"
The congressman told him to choose a cause.
"You either get involved with local politics or some kind of community organization or issue group to learn about policy making," Lipinski said. "You want to put yourself out there."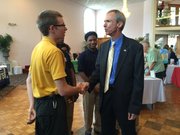 Lipinski also suggested joining a political campaign as a volunteer to learn more about how the system works.
While at the fair, the students introduced themselves to other people and talked about their studies at the Center. Derrick Jennings is in the Culinary Arts program, and he struck up a conversation with Christine Suddreth, the community outreach coordinator at the PLOWS Council on Aging of Palos Heights, Ill.
Jennings told her that he wanted to earn his CDL driver's license in a Job Corps Advanced Training Program. Eventually he would like to combine his interest in food with his love of the road and open a food truck.
"A restaurant on wheels," Jennings said, smiling.
The Joliet Job Corps Center, 1101 Mills Road, Joliet, provides free vocational and educational training for young people to help them have successful careers. The students who train at the Center can earn their high school diploma or GED while also learning one of eight trades.