Race to Chicagoland Speedway with Train-To-Track program
8/3/2016, 9 a.m.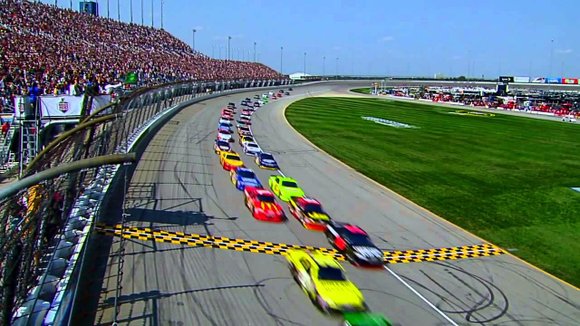 Finding the fastest way to the track isn't always the easiest task, but fortunately for fans, Chicagoland Speedway has taken the guesswork out of the equation for fans with a commute. Chicagoland Speedway will once again offer fans who are attending the Teenage Mutant Ninja Turtles 400, the convenient and affordable Train-to-Track program for those who take either Metra or Amtrak trains.
For just $5 each way, fans can take a short shuttle ride from Joliet's train station
to Chicagoland Speedway. Recommended routes include the Metra Rock Island District service, which riders can catch from any of the 25 stops along the way and the Amtrak to Joliet with service from St. Louis through Southern Illinois.
Guests utilizing the Train-to-Track program will receive print-at-home tickets upon
purchase and must reserve a specific time of departure to and from the race track.
Upon arrival at the Joliet train station, a Chicagoland Speedway ambassador will
greet fans outside and direct fans to a shuttle transporting fans directly to the
track. The Chicagoland Speedway ambassador will be available to answer questions
throughout the short trip to the track.
The Chicagoland Speedway Train-to-Track Shuttle Service will service the following
train schedule to/from Joliet Station:
Metra - Rock Island Line
Ø To Joliet
• Arrive 10:00am
• Arrive 11:50am
Ø From Joliet
• Depart 6:15pm
• Depart 8:20pm
Amtrak*
Ø To Joliet
• Arriving 8:59am (Lincoln Service - From St. Louis & Southern IL)
• Arriving 10:15am (Lincoln Service - From Chicago)
• Arriving 11:19am (Lincoln Service - From St. Louis & Southern IL)
Ø From Joliet
• Departing 6:05pm (Lincoln Service - To St. Louis & Southern IL)
• Departing 7:26pm (Lincoln Service - To Chicago)
• Departing 7:50pm (Lincoln Service - To St. Louis & Southern IL)
*Schedule as of April 29, 2016. Subject to change. Please check Metra and Amtrak
websites for up-to-date service schedules prior to Race Weekend.
Bus Departures from Joliet Station for Track: 9:30am, 10:30am, 12:15pm
Bus Departures from Chicagoland Speedway Bus Lot for Joliet Station: 5:00pm, 6:00pm,
7:00pm
Please note that Chicagoland Speedway is not responsible for guests who miss their
scheduled shuttle departures to or from the facility.
The Chase for the NASCAR Sprint Cup weekend at Chicagoland Speedway, Sept. 15-18,
will begin on Thursday, Sept. 15 with the ARCA Racing Series followed by American
Ethanol E15 225 NASCAR Camping World Truck Series under the lights on Friday night.
On Saturday, Sept. 17, the NASCAR XFINITY Series will hit the track as the precursor
to Sunday's NASCAR Sprint Cup Series showdown, the first race in the Chase for the
NASCAR Sprint Cup.
The complete 2016 NASCAR schedule at Chicagoland Speedway is as follows:
Chase for the NASCAR Sprint Cup Weekend
Thursday, Sept. 15 ARCA Racing Series SCOTT® 150
Friday, Sept. 16 NASCAR Camping World Truck Series American Ethanol e15 225
Saturday, Sept. 17 NASCAR XFINITY Series
Sunday, Sept. 18 NASCAR Sprint Cup Series Teenage Mutant Ninja Turtles 400