Muffin-Tin Italian Sausage Pizzas
8/10/2016, 11:10 a.m.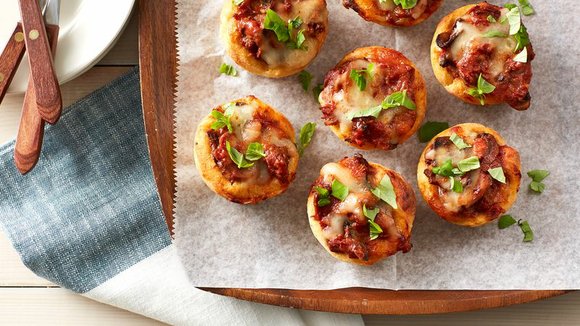 SERVINGS: 12
Ingredients
1 can (11 oz) Pillsbury™ refrigerated thin pizza crust
1 tablespoon olive oil
¼ lb mild Italian sausage
½ cup diced red onion
¼ teaspoon salt
1 package (8 oz) sliced mushrooms
1 cup pizza sauce (from 15-oz can)
2 cups shredded mozzarella cheese (8 oz)
1 tablespoon chopped fresh basil leaves
Directions
Heat oven to 425°F. Spray 12 regular-size muffin cups with cooking spray. Do not unroll dough; cut rolled dough into 12 pieces; place in muffin cups. Let rest 15 minutes.

Meanwhile, in 10-inch nonstick skillet, heat oil over medium heat. Add sausage; cook 5 to 6 minutes or until no longer pink. Using slotted spoon, transfer to small bowl.

Add onion and salt to oil in skillet; cook 2 to 3 minutes or until softened. Add mushrooms; increase heat to medium-high, and cook 4 to 6 minutes longer or until mushrooms release liquid and brown. Remove from heat.

Stir in cooked sausage and 1/2 cup of the pizza sauce. Cool 5 minutes. Stir in 1 1/2 cups of the cheese.

Meanwhile, press pizza dough into cups, pressing firmly up sides. Divide sausage mixture evenly among cups.

Bake 11 to 14 minutes or until crusts are browned and cooked through. Top with remaining 1/2 cup cheese. Let stand 1 minute. Run knife around outside of each cup. Warm remaining 1/2 cup pizza sauce, and serve with cups. Top with basil.