Plainfield barn could become special events venue, banquet hall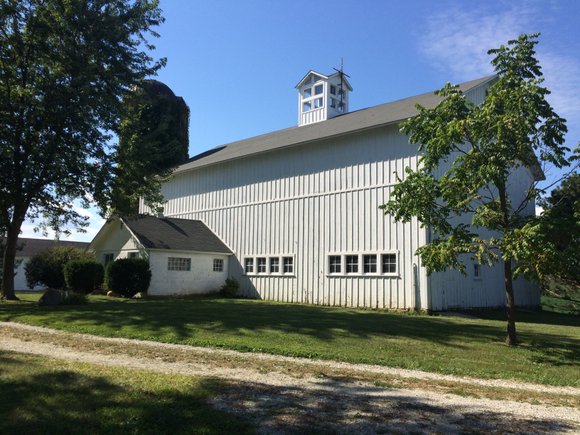 A Wheatland Township barn built in 1878 could become a special events venue and banquet hall under a plan proposed by a pair of Plainfield entrepreneurs.
Plainfield residents Kurt and Stephanie Watson told the Village Board on Monday that they plan to restore a barn on the property at 12464 S. Heggs Rd. for use as a banquet center if the land is annexed in to the village.
The couple also plan to live with their children in a separate residence that was built on the 14 acre property in 1990 and will continue to operate some of the land as a farm.
He said that the project would meld a new use for the barn and property while also preserving the historical aspects of the building and land.
"Preserving the history that's there as well as offering something to the community," said Kurt Watson who said he envisions renting the site out for wedding receptions, banquets and family reunions.
The couple both have extensive experience in events planning and hospitality management and plan to call the venue "1844" which is the year that the Drinkall farm was founded.
Improvements to the site will include a historical restoration of both levels of the barn that will hold approximately 175 guests once completed.
In addition, the couple plans to invest a total of $200,000 in the project that will include fire suppression, electrical and plumbing improvements, handicap access, refrigeration and on-site restrooms.
Phase 1 will also include safety gates to cordon off the private residence from the banquet hall grounds, concrete work, outdoor lighting and audio, a gravel parking lot, and an outdoor patio with bar/service area. Phase 2 could include installation of solar power.
The couple is asking the village to annex the property in to Plainfield where it will look at the feasibility of connecting the site to its water and sewer service.
Food served on the site would be provided by outside catering companies that the couple would partner with locally said Kurt Watson.
The couple said that other services on the site would include beverage service and events planning for the venue. The venue would operate from April to November with a projected opening by June 2017.
The couple said they are planning to host at least 42 events during their first year.
brock@thetimesweekly.com
@BrockAStein on Twitter