Joliet group's referendum question could be ruled invalid
Rex Robinson | 8/17/2016, 6:04 p.m. | Updated on 8/18/2016, 1:58 p.m.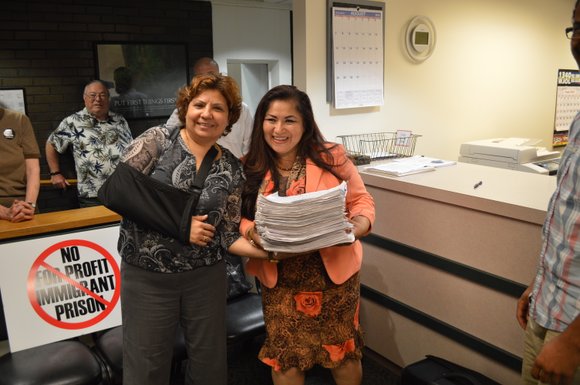 A proposed referendum question for the November 8 ballot seeking voter approval to change the way Joliet City Council members are elected now hinges on a judge's ruling from the Will County Circuit Court's Office.
As required by Illinois State Statute, the Concerned Citizens of Joliet group submitted the referendum question to the office of Joliet City Clerk Christa Desiderio along with more than 5,000 petition signatures. That was done on Aug. 8.
The first part of the referendum ballot questions reads: "Shall the city of Joliet cease to elect Council Persons at-large and instead draw eight districts with only one Council Person to be elected from each district, with the Mayor continuing to be elected at-large?"
It's the second part of the referendum question that gets confusing and could result in it never making it onto the Nov. 8 ballot. It reads (and this part is in italics): "Provided (1) the change shall be effective for the 2017 municipal election and therefore the City of Joliet be divided by the sitting council members into 8 districts by December 15, 2017. This proposition is written pursuant to Illinois Constitution Article VII, section 6(f) and 10 ILCS 5/28-7"
Desiderio submitted the question and submission of signatures to the clerks' offices in both Will and Kendall counties. An addendum that went along with that receipt from Desiderio's office alerted both county clerks to the potential problem. It states, "It is a legal impossibility for the City of Joliet to be divided into eight districts for the April 4, 2017 municipal election."
The addendum attached to the county certification further states, "redistricting shall be completed not less than 30 days before the first day set by the general election law for the filing of candidate petitions for the next succeeding election for city officers." It goes on to further clarify that "if the City must redistrict for the April 4, 2017 election, it shall be completed by August 22, 2016, … 30 days prior to the first day set by the general election law for the filing of candidate petitions (September 20, 2016)."
What this all means is that the current city council would not have enough time to get this done because according to state statute the deadline of August 22, 2016, would have already passed.
Will County Clerk Nancy Schultz Voots said she forwarded everything regarding the referendum question, including the addendum, to the office of Will County State's Attorney Jim Glasgow for an opinion. Glasgow's office has now turned the matter over to the Will County Circuit Court's Office for a judge's ruling.
Maria Aracelia Rosas Urbano, representative for the Concerned Citizens of Joliet group, also is seeking a legal opinion.
"We have forwarded this to our attorney for legal advice regarding the municipal election in 2017," she stated in an e-mail to The Times Weekly. "We are confident that the petition signed by over 5,000 voters is valid and the referendum question will be included on the November ballot."