Lukancic Middle School unveils outdoor classroom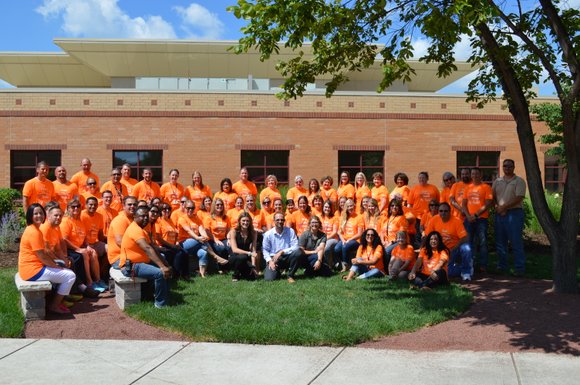 While the summer is far from over, and the days are still warm and sunny, many Will County area students are headed back to school this week.
Though they may be spending more of their days inside, some students at Lukancic Middle School in Romeoville may still be able enjoy some of the end-of-summer weather as they start their year with a new outdoor classroom.
The new outdoor learning space in the Valley View Middle School's courtyard was designed for bringing the learning environment outside said principal Tricia Rollerson who along with the district grounds crew guided the project to completion just before the start of the 2016-2017 school year.
Rollerson said that the idea was to make the "courtyard a student learning area where we could have groups of students learn outdoors."
The new space includes two sections of curved concrete seating that will hold up to 45 students with plenty of room for small group learning and exploring nature inside the courtyard.
"This will give our students and staff an area outside in our courtyard for learning that will be similar to what they could do in a classroom setting," she told staff the day before school was set to welcome students back.
The outdoor learning center is the first in the Valley View School District. It was the work of Sebert Landscape which completed the first phase of the planned four-phase project. Phases 2-4 will include additional learning spaces as well as an area for a vegetable garden and native plantings area with walk paths.
Mike Singleton, the district's grounds leadman, told faculty that he hopes that the space will be useful to the teachers and that he was anxious to hear feedback to improve its usefulness.
Singleton said that other schools in the district are starting to formulate their own plans for outdoor learning spaces as well.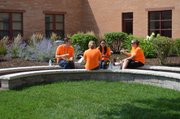 Nicole Bradley of Sebert Landscape said that with the first phase of the outdoor classroom project completed, she hopes that the Lukancic teachers will begin to use the space and eventually find ways to integrate it in to their curriculum.
Bradley said that her company does landscaping for large property spaces like hospitals and schools but last year made a commitment to create more outdoor learning spaces for students. She noted studies that show the positive impact that outdoor learning can have on childhood obesity and ADHD symptoms.
"There are so many benefits that can come from outdoor learning," said Bradley who said that her company hopes to incorporate feedback from Lukancic teachers into their future designs for other outdoor classroom learning spaces as well as the school's future phases of construction.