Shorewood moving forward with Route 52, River Road intersection improvements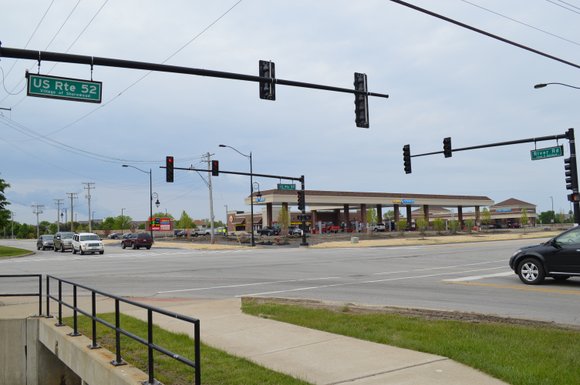 Plans to widen the intersection at Route 52 and River Road are moving ahead in Shorewood after the village's recent approval of final engineering for the project.
The phase 2 engineering, at a cost of just over $298,000, will include preparation to place the project out for bid in the spring of 2017 with a construction start date expected sometime in the summer of next year.
Work to be completed will include widening of both the River Road and Route 52 legs of the intersection as well as added through lanes on Route 52 in both directions.
Other work will include the addition of right turn lanes on both sides of River Road along with updated street lighting, traffic signals and storm sewer drainage.
A bike path on the north side of Route 52, west of River Road, will also be extended as part of the project.
Engineers for the village expect the work to be completed by the end of 2017.
Village mayor Rick Chapman said that the original engineering for the project called for the road to be raised by as much as 8 inches which would have added considerable cost to the final price tag for improvements.
"That would have changed the price figure astronomically," said Chapman.
Chapman credited the village's engineering firm for figuring out a more economical solution to completing the widening.
The bulk of the construction costs will be paid for with a 75% federal funding grant through the Will County Governmental League. Total cost for the project is expected to be around $3 million according to village administrator Roger Barrowman.
Garbage cans
The village has amended its code of ordinances to prohibit the storing of garbage cans in the front of homes and garage doors
The new rules will require village residents to store refuse containers on the side of residents' homes.
Mayor Rick Chapman said that the changes came following "much dialogue" with village staff, residents, and elected officials.
The new rules, he said, will help improve the aesthetics of the village's neighborhoods and streets.
"It has a tendency to make the village look a little different if they're left out front," said Chapman.
Residents will also be prohibited from placing their cans out by the curb for pick up more than 24 hours before scheduled trash pick-up under the new rules as well.
Violators of the new ordinance will receive a notice on their trash can following a first offense.
Trustee Cookie Kirkland, who was the lone 'no' vote against the change, said that the village has "bigger issues" to deal with and that the ordinance will be difficult to enforce.
Chapman said that fines for continued violations would follow the village's code violations schedule which would start at $50.