Joliet Slammers Liam O'Sullivan earns Pitcher of the Week
8/25/2016, noon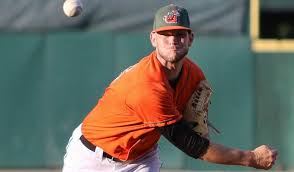 The Joliet Slammers presented by ATI Physical Therapy are excited to announce starting pitcher Liam O'Sullivan was named Frontier League Player of the Week as chosen by Pointstreak, the official statistical provider of the Frontier League and the Independent
Professional Baseball Federation.
O'Sullivan earns this week's Pitcher of the Week honors after his 1-0 start and victory Saturday over the Gateway Grizzlies. The 25-year-old threw 9.0 innings while giving up no runs and only allowing 4 hits. He only allowed one walk and earned an impressive season high 12 strikeouts. This brought his season record up to 9-1 while pitching in 18 games in 108 innings.
O'Sullivan now has 99 strikeouts and only 22 walks for the season. He lowered his ERA to 3.58 for the season which is down 0.33 from the previous week's pitching.
Last season, O'Sullivan pitched in the league for the Frontier Greys organization where he went 0-3 in 6 games with a 7.42 ERA. The 6-3 right-hander played baseball collegiately at Saint Leo University and is
from South Grafton, Massachusetts. O'Sullivan is currently tied for win totals in the Frontier League and is only one behind the league leader in strikeouts with 99.
The Joliet Slammers are back home beginning on Tuesday, August 23 for their series against the Windy City ThunderBolts.
Pointstreak provides the league with its statistical software and in game scoring applications. They aim to deliver "fast scores and cool stats to players, parents, fans, scouts and media." For more information on Pointstreak products visit them at www.poinstreaksolutions.com or www.pointstreak.com.
The Frontier League is entering its 24th season in 2016 and features 12 teams stretching from Pennsylvania to Missouri and from Kentucky to Northern Michigan. The Frontier League annually advances the most players
to MLB organizations of any of the independent leagues, and 28 former Frontier League players have played in the Major Leagues.