Legendary Journalist, Editor George Curry remembered as Champion of Civil Rights
Hazel Trice Edney | 8/25/2016, 6 a.m.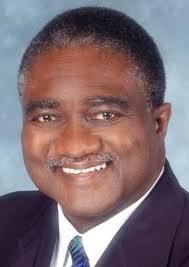 Renowned civil rights and Black political journalist George E. Curry, the dean of Black press columnists because of his riveting weekly commentary in Black newspapers across the country, is being remembered this week as a legend.
Curry died suddenly of heart failure on Saturday, August 20. He was 69.
"He stood tall. He helped pave the way for other journalists of color to do their jobs without the questions and doubts," said the Rev. Jesse Jackson Sr. with whom Curry traveled extensively, including to the funeral of President Nelson Mandela. "He was a proud and tireless advocate of the Black press, serving two tours as editor-in-chief of the National Newspaper Publishers Association's news service."
Curry's fiancée Ann Ragland confirmed that the funeral will be held Saturday, August 27, at 11 am at the Weeping Mary Baptist Church, 2701 20th Street, Tuscaloosa, Ala. Rev. Al Sharpton will give the eulogy. A viewing on Saturday will be from 8:30-11 am.
Ragland said a viewing will also be held on Friday evening, Aug. 26, with Rev. Jackson speaking, but the time and venue have not been confirmed by deadline. Additional details will be announced this week.
Having grown up in Tuscaloosa during the height of racial segregation, Curry often said he "fled Alabama" and vowed never to return when he went away to college. However, Ragland said he always told her to return him home to Tuscaloosa upon his death.
Shocking rumors of his death circulated heavily in journalistic circles on Saturday night until it was confirmed by Dr. Bernard Lafayette, MLK confidant and chairman of the Southern Christian Leadership Conference shortly before midnight.
"This is a tragic loss to the movement because George Curry was a journalist who paid special attention to civil rights because he lived it and loved it," Lafayette told the Trice Edney News Wire through his spokesman Maynard Eaton, SCLC national communications director.
Curry's connection to the SCLC was through his longtime childhood friend, confidant and ally in civil rights, Dr. Charles Steele, SCLC president. Steele and Curry grew up together in Tuscaloosa, Ala., where they played football at Druid High School. Curry bloomed as a civil rights and sports writer as Steele grew into a politician and civil rights leader.
"He was a pacesetter with the pen. He saw things that other people didn't see," said Steele. "And once he saw those things, he embraced them and exposed them in terms of putting information into the hands of people who would normally be left out of the process, meaning the African-American community."
Ragland, Curry's fiancée and closest confidant, drove him to the Washington Adventist Hospital emergency room after he called her complaining of chest pains Saturday afternoon. He insisted that she take him instead of calling an ambulance. She said he remained conscience throughout the cardiac tests and the doctor assured her he would be fine. But his heart took a sudden turn. She said the doctor tried to explain to her that the turn was totally unexpected. "He said, 'He was okay, but then his heart just stopped.'"