Judge delays validation decision for Joliet group's ballot question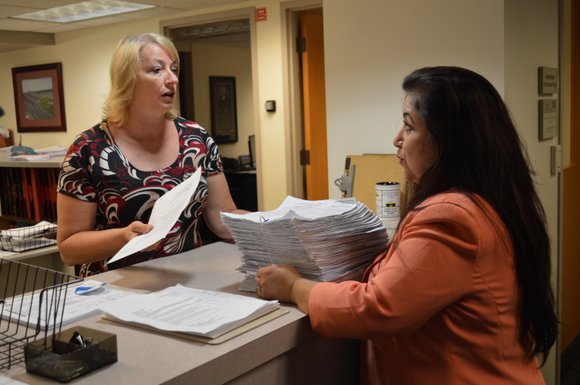 A Will County circuit court judge is expected to decide later this month whether a proposed referendum question seeking voter approval to change the way Joliet City Council members are elected makes it onto the Nov. 8 ballot.
On Thursday, Luke Greenwood, attorney for the Concerned Citizens of Joliet group, filed a motion with Will County 12th Circuit Court Judge John Anderson to dismiss a complaint filed on behalf of Will County Clerk Nancy Schultz Voots questioning the validity of the group's proposed referendum question.
The first part of the referendum ballot questions reads: "Shall the city of Joliet cease to elect Council Persons at-large and instead draw eight districts with only one Council Person to be elected from each district, with the Mayor continuing to be elected at-large?"
The second part reads: "Provided (1) the change shall be effective for the 2017 municipal election and therefore the City of Joliet be divided by the sitting council members into 8 districts by December 15, 2017. This proposition is written pursuant to Illinois Constitution Article VII, section 6(f) and 10 ILCS 5/28-7"
Joliet City Clerk Christa Desiderio submitted the question and submission of signatures to the clerks' offices in both Will and Kendall counties earlier in August.
An addendum that was sent along with that receipt from her office alerted both county clerks to the potential problem which states, "It is a legal impossibility for the City of Joliet to be divided into eight districts for the April 4, 2017 municipal election."
The addendum attached to the county certification states, "redistricting shall be completed not less than 30 days before the first day set by the general election law for the filing of candidate petitions for the next succeeding election for city officers."
It goes on to further clarify that "if the City must redistrict for the April 4, 2017 election, it shall be completed by August 22, 2016, … 30 days prior to the first day set by the general election law for the filing of candidate petitions (September 20, 2016)."
Presenting to the judge, Will County State's Attorney Phil Moch said that the current city council would not have enough time to get the revamp of the districts in place due to the fact that the state statute deadline of August 22, 2016, would have already passed.
Moch also informed the judge of the urgency of the matter as the deadline to make changes to the ballot approaches.
Will County Clerk Nancy Schultz Voots agreed, saying that Sept. 8 would be the last day to get any updated information for the Nov. 8 ballot.
"It's very urgent that the judge makes a decision quickly," she said.