New order changes child welfare language
8/26/2016, 6 a.m.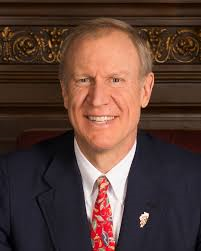 Governor Bruce Rauner signed an Executive Order directing all references of "ward of the state" or "ward of the Department" within the child welfare system be changed to "youth in care." The order is a direct response to a meeting the Governor had with youth in care who voiced their unease with the label. "Ward" is widely viewed by youth in care as particularly disparaging and becomes a dominant label for their legal status, distinguishing them from other children and youth.

Over the last year and a half, the administration has worked on many initiatives to reform the DCFS system to better respond to the needs of youth in care and families in need. Along with the Executive Order, Governor Rauner signed four bills to further help DCFS, foster parents and youth in care address barriers for youth and allow for stronger bonds within their families and communities.
HB 4641 and HB 4590 establish a stronger adoption approval process for families to ensure that our youth in care go to the very best and most supportive homes. HB 4641 amends the Child Care Act of 1969 to require approvals of adoption-only homes by licensed child welfare agencies. Under the new law, licensed child welfare agencies must thoroughly investigate and evaluate the criminal history of homes in which an adult resident has an arrest or conviction record. HB 4590 expands the list of disclosures in the Adoption Act to include the selection of an adoptive family.