Diageo donates backpacks, school supplies to Joliet Central High School's Key Club
8/29/2016, midnight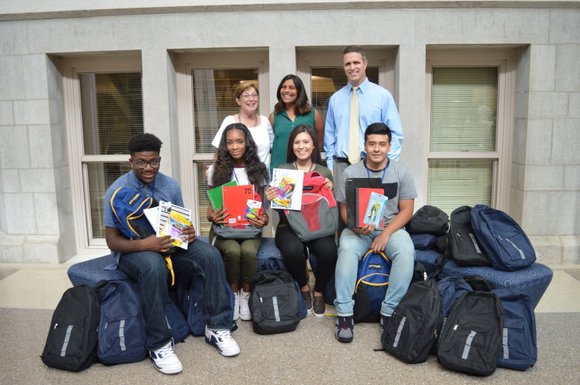 Diageo employees recently presented a donation of 25 backpacks with supplies to Joliet Central High School's Key Club as the recipient of Diageo's 2016 local community outreach project. These backpacks will be distributed to students in need.
Tara Bowers, of Diageo's Plainfield location, presented the gift to Principal Shad Hallihan, Key Club Sponsor Linda Bowers and student volunteers Veronica Briceno, Tyree O'Large, Achante Freeman, and Adolfo Rivas.
"Key Club's mission is to help one child and one community at a time. As we begin this new school year, Key Club is honored to be chosen by Diageo to receive their community outreach project of donating 25 backpacks with supplies to our students in need," said Linda Bowers. "As Key Club's sponsor, I am very happy to be able to have our club develop a community relationship with Diageo and to be able to help 25 students."
Diageo's Tara Bowers, who grew up in the Joliet community, added, "During this back-to-school season, I am proud to give back to the community that raised me, and I'm fortunate to work in a great company that has the means to give back to those in need."
Diageo is a global leader in beverage alcohol with an outstanding collection of brands including Johnnie Walker, Crown Royal, JεB, Buchanan's and Windsor whiskies, Smirnoff, Cîroc and Ketel One vodkas, Captain Morgan, Baileys, Don Julio, Tanqueray and Guinness.
The Key Club International is the oldest and largest service program for high school students. It is a student-led organization that teaches leadership through service to others. Members of the Kiwanis International family, Key Club members build themselves as they build their schools and communities.