Troy PTO buys furniture for school iLabs
8/30/2016, 10:06 a.m.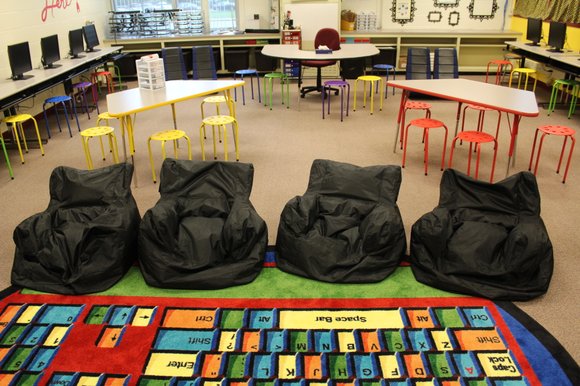 Troy Community School District 30-C grade school students found a big surprise when they got to their schools this year. Craughwell, Crossroads, Heritage Trail and Hofer Elementary Schools have colorful new iLabs, transformed from computer labs and designed to meet the students' ever-advancing technology needs. Shorewood Elementary School debuted the district's pilot iLab last year. The iLabs are rooms dedicated to learning and applying technology.
The technology was purchased by the district, and the furniture and decorations were bought by the Troy PTO, an organization that is gearing up for the new school year with exciting plans. President Jennifer Prosise says the PTO fundraises throughout the year to give to the teachers and students at the district's seven schools.
New this year are meetings on the 1st Tuesdays of each month at 7 p.m. at the District Office, beginning September 6. There is no charge for parents to join.
Community members can support the PTO by purchasing spirit wear clothing through September 9 in a link found on the Troy 30-C website, www.troy30c.org, and clicking on the "Virtual Backpack" link.
Anyone purchasing products through Amazon.com can also direct a percentage of their purchase to Troy PTO by shopping at smile.amazon.com.
The community can also save "Boxtops for Education" labels on food containers and turn them into the schools for the PTO to collect and raise dollars. Money raised by the PTO goes to purchase class t-shirts for graduating 8th graders; to reimburse teachers for classroom supplies; for "wish lists" generated by teachers; for Elves in Craftland, a program where students make crafts to give as gifts; for the district's Fun Fair, held in the spring; and for such extra projects as library and iLab rehabs.
"It's a fun group," Prosise said. "It's a great opportunity to meet other parents and to get to know the principals and the superintendent on a personal basis. It's also another way to get involved in the district where your child attends school."
For more information on the Troy Community School District 30-C PTO, email troypto@troy30c.org.