12th Annual Tony Ray Labor Day Community Festival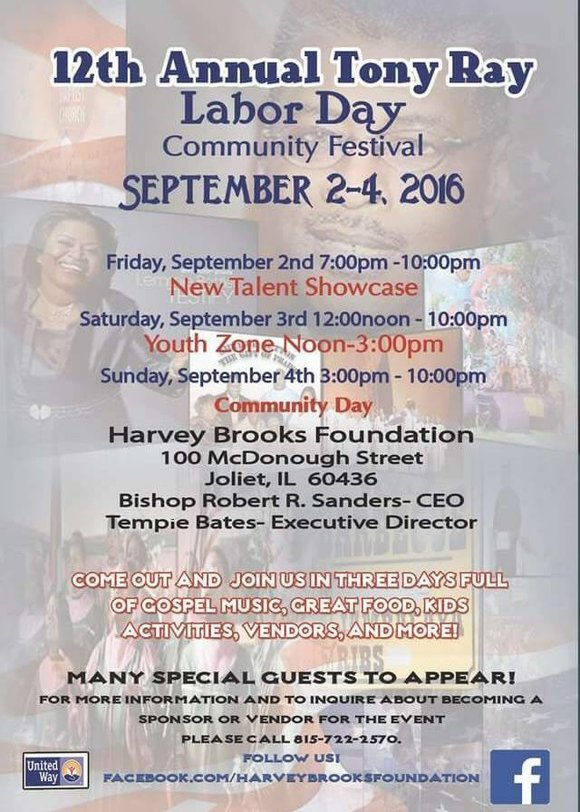 The annual Tony Ray Labor Day Community Festival is this weekend in Joliet.
The fest will run from Friday through Sunday, September 2-4 and is sponsored by the Harvey Brooks Foundation, 100 McDonough St. in Joliet.
The annual festival, which includes gospel music, a youth zone, new talent showcase as well as a community day on Sunday is named in honor of the late Tony Ray a life-long Joliet resident who died in 2012. During his life, he worked tirelessly in support of his fellow citizens and community. His love of gospel music inspired the festival that bears his name.
The festival will include food, an assortment of vendors and music from the Tony Ray Mass Choir. Kids activities will include games, Ident-a-kid (must be accompanied by an adult), a bounce house and presentations from the Joliet Police canine unit, and the Joliet Fire Department. This year celebration the foundation will recognize outstanding small businesses in the community as part of their presentations.
Proceeds from the event will benefit the Harvey Brooks Foundation, a non-profit that helps underserved families.
More information is available on the festival's website, www.facebook.com/The-official-Harvey-Brooks-Foundation.