Board member wants to carry firearm in county building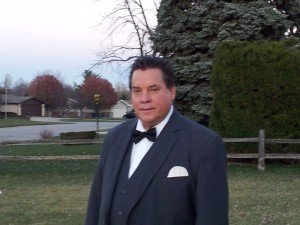 Will County Board member Steve Balich has a concealed carry permit which allows him to carry his firearm just about everywhere except the one place where he conducts a lot of his business.
Balich, of Homer Glen, who represents Will County's District 7, said that he made the request to be allowed to carry his concealed weapon in the county building, 302 N. Chicago St. about 6 months ago.
So, far he hasn't gotten an answer though one could be coming.
Will County Executive Larry Walsh said in November that an agreement with a private security firm will expire on December 1. Walsh said that an agreement was worked out with the Will County Sheriff's department to begin providing a deputy to serve as security for the building during business hours.
Balich questioned Walsh about his request at the November board meeting, saying that he'd heard of reports in the media denying his request though he said he hadn't received an official letter of denial. Balich said that he is among 4 people who have requested permission to carry a firearm in the publicly funded building. Though he declined to name the others who also made requests he did say they were a mix of elected and appointed officials as well as building staff.
Balich said that having a sheriff's deputy on the premises is a step in the right direction for the security of the building.
"I'm very happy to have the sheriff there," said Balich this week but noted that the presence of an armed officer isn't enough.
Balich said that he sees gun-free zones like the county building as a target since potential mass shooters know in advance that the people inside will be unarmed. He said allowing employees and elected officials to conceal carry in the county building will serve as a deterrent that will make potential shooters think twice.
He believes that a state statute is on his side. He cites chapter 38 of the Illinois criminal code which states that it is a class A misdemeanor to carry a weapon in any publicly funded building without prior permission from the chief security officer.
The statute notes that "The chief security officer must grant any reasonable request for permission under paragraph (a)."
Balich believes that his and others requests to carry are reasonable. He also thinks that having more than just an armed officer on the premises will help if an active shooter situation should occur where other armed individuals can intervene.
"If somebody was going to do something bad they sure are going to be kind of nervous if everyone that was allowed to carry could carry a gun," said Balich.
"The thought is that on the person that's bad is that 'we don't know who's got a gun in there so we'll keep away from there.'"
Walsh, who said that the final decision lies with him as the chief security officer of the Will County Building, will sit down with the Will County State's Attorney and other stake holders after December 1 to determine how to proceed and make a final determination on the requests.
At odds with the wording in the state statute is the language of Illinois' concealed carry law which states that a person with a concealed carry permit is restricted from carrying a weapon in government buildings as well as schools, colleges, daycares, playgrounds and libraries to name a few. In total there are 18 locations that prohibit firearms under Illinois concealed carry law which was approved in 2013.
Walsh said in November that Balich's and other's requests haven't been "approved or denied" and that he would defer to the state's attorney's decision on whether "people should be carrying weapons inside this building or not."