New Joliet IKEA will be solar powered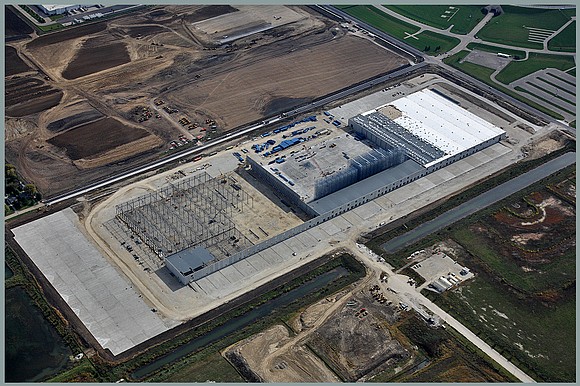 When it opens in 2018, the new IKEA distribution center being constructed in Joliet will be powered, in part, by energy from the sun.
Recently, IKEA announced plans to install 8,966 solar panels on the roof of the 1.25 million square foot facility that's currently under construction on a 72-acre site at the Laraway Crossings Business Park near Route 53 and Laraway Road.
A press release from the Swedish retailer notes that installation of the panels will begin in the spring of 2017 and once complete should produce over 3 million kilowatts of electricity each year—enough energy to power 354 homes annually. The solar panels will reduce the building's carbon dioxide emissions equal to that of 506 cars.
The concept of reducing its carbon footprint isn't new for the home furnishings retailer which already has solar arrays on its stores in Bolingbrook and Schaumburg, and maintains a 49-turbine wind farm in Hoopeston, Illinois. The Joliet location will have the largest solar set up of the Chicago-area locations.
Once open, the new Joliet center will distribute inventory sold at IKEA stores worldwide. Originally planned as a 1.4 million square foot facility, the new facility will be slightly smaller with plans to construct a second, identical Joliet facility on the same site at an as yet to be determined future date.
"We are excited to further our sustainability commitment with solar panels on our future Midwest distribution center," said Lars Peterson, IKEA U.S. president in a press release from the company.
Joliet assistant city manager and economic development director Steve Jones said that the city was pleased to see a "quality tenant" like IKEA also taking the "sustainability route" with this new project. Jones said that the company hopes to produce more power than it uses with its combination of solar and wind power sources in the state.
In addition to its reduced carbon footprint, Jones said that the building is also expected to produce about 100 full-time jobs when it opens.
Information released about the project notes the benefit of the IKEA facility's proximity to the Joliet intermodal rail center and its ability to ship goods to market all over the United States that are coming from such far-flung locations as Asia and Europe.
Jones said that the city is also looking at more industrial development coming with a 900,000 square foot building project in the permitting stage and another 1.2 million square foot project also in the works.
The city has been on a roll in recent months with high profile projects that have brought large industrial development and the jobs that come with them.
A 1.4 million square foot Mars facility is expected to create up to 500 jobs along with a Home Depot warehouse that will add another 200. A pair of Amazon.com distribution facilities could ultimately employ 3500 workers. That influx of jobs to the area could ultimately benefit wages for job seekers said Jones who said that competition to hire workers has gotten more competitive.
"One company might up the wage rate and people move over there and it becomes a cycle," he said.