Glasgow sworn in for sixth term as Will County State's Attorney
12/2/2016, 9:47 a.m.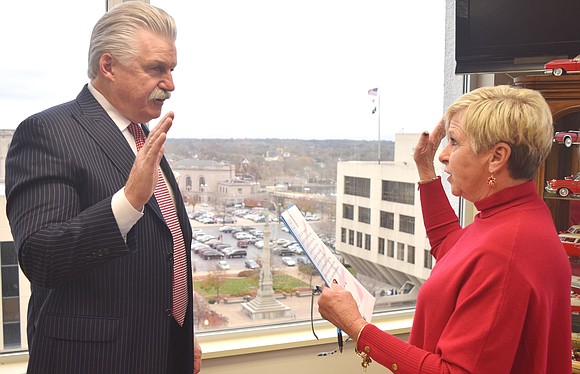 When Will County State's Attorney James Glasgow took the oath of office on Thursday morning, he began his fourth consecutive term – his sixth term overall – and cemented his place in local history as the longest-serving State's Attorney in Will County.
State's Attorney Glasgow was first elected to office in 1992 and then re-elected in 1996. He was out of office for one term beginning in 2000, but he returned in 2004 after once again winning election. He has served consecutive terms since 2004, making this his fourth consecutive term and his sixth term overall.
No other State's Attorney in Will County dating back to Uri Osgood, who was named Will County's first Prosecuting Attorney in 1836, has taken an oath to serve more than three terms in the last 180 years. Only five State's Attorneys have served three consecutive terms, and only two have served two consecutive terms.
"I am truly humbled that the people of Will County have elected me to serve as their top prosecutor for six terms," State's Attorney Glasgow said. "It's an honor that I have never taken lightly as I guide a team of highly skilled attorneys, legal secretaries and administrators in our mission to prosecute criminal cases, keep our streets safe, and provide important legal representation to our county officials."
Throughout State's Attorney Glasgow's tenure, his office has maintained a felony conviction rate that has consistently been 15 points higher than the state average, and he has consistently led the conviction rates compared to every other major county in Northern Illinois.
"While prosecuting crime is clearly the most important function for any State's Attorney, I have always tried to think beyond the scope of my official duties in order to better serve and protect our citizens," State's Attorney Glasgow said. "I have always defied conventional wisdom in protecting the people of this county. I have implemented programs and initiatives that break new ground in terms of crime prevention, more effective prosecution and education."
One of those chief initiatives is the creation of a High Technology Crimes Unit consisting of skilled investigators who track and prosecute those who produce, distribute and/or download child pornography on the Internet.
The unit has investigated more than 100 child pornography cases since its creation in 2012. The conviction rate for the cases that have been adjudicated is 100 percent. Of the total number of cases, roughly 30 involved "contact offenses" in which the defendant had either sexually abused a local child or had contacted children online to exploit them. Recently, State's Attorney Glasgow purchased a specially trained K-9, the first in Illinois, to detect hidden electronic devices used by predators to store child pornography.
Among his many other accomplishments, State's Attorney Glasgow:
Created the first Gang Prosecution Unit, which has continued to drive down gang violence over the last two decades;
Successfully prosecuted Drew Peterson for the murder of his third wife in a landmark case that attracted international attention, and he successfully prosecuted Christopher Vaughn for the murder of his wife and three children. Peterson is serving a 38-year sentence and Vaughn four consecutive life sentences. Peterson is also serving an additional consecutive 40-year sentence for soliciting the murder of State's Attorney Glasgow.