Glasgow sworn in for sixth term as Will County State's Attorney
12/2/2016, 9:47 a.m.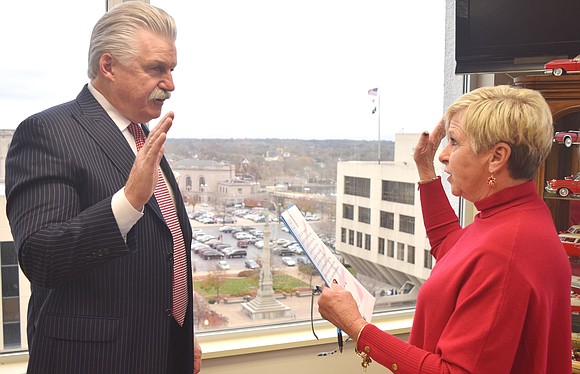 Pioneered Will County's first Specialized Domestic Violence Court and formed a Domestic Violence Prosecution Unit consisting of attorneys and advocates who give women the empowerment they need to follow through with the prosecution of their abusers. He did this by successfully obtaining a federal grant.
Established the Will County Children's Advocacy Center in 1995 to stop child sexual predators in their tracks. The Center has been instrumental in the successful prosecution of literally thousands of child predators over the last 21 years.
Obtained a $500,000 federal grant to establish one of the Nation's early drug courts to save young people from needless career-ending felony convictions for drug possession resulting from their addictions. During the recent heroin epidemic, Drug Court has been instrumental in saving the lives of many people suffering from this addiction. He also has led the fight with HERO/HELPS to warn parents, educators and teens about the deadly dangers of using heroin. And he works with police to aggressively prosecute heroin dealers.
Created the Paws 4 Kids pet therapy program, consisting of three beautiful Labrador Retrievers, to comfort sexually abused children who visit the Children's Advocacy Center and testify in court. He also obtained another specially trained Labrador Retriever to work in the specialty courts for veterans as well as those who suffer from mental illness, domestic violence and drug addiction.
Purchased transport vehicles for the local Veterans Assistance Commission, the Forest Park Community Center and the Spanish Center with money seized from criminals to make sure our veterans get to the medical treatment they so richly deserve and that our at-risk youths can literally have a vehicle for success.

In addition, the State's Attorney continues to enjoy meeting with community residents, particularly with senior citizens, to educate them about financial scams, identity theft and other important safety issues. He has formed a Crime Prevention Bureau that travels the county to educate citizens about gang violence, financial scams, Internet safety and drug abuse prevention.
In acknowledgment of his work over the years, the Illinois State Crime Commission has awarded him its prestigious State's Attorney of the Year honor on an unprecedented four occasions over the past two decades and also presented him with a Career Achievement Award in 2016. He also received the prestigious Mitchell A. Mars Prosecutorial Excellence Award in 2012 for his outstanding effort in the prosecution of Drew Peterson.
Photo: Will County State's Attorney James W. Glasgow is sworn in by Will County Clerk Nancy Schults Voots early Thursday morning. He is the longest serving State's Attorney in Will County's history.