H.S. Boys Basketball: Joliet West dominates Minooka
Alex Ortiz | 12/3/2016, 12:23 a.m. | Updated on 12/5/2016, 11:18 a.m.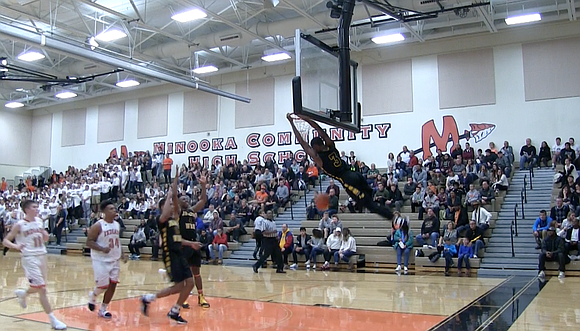 Joliet West (5-0) showed why it's being looked at as one of the best teams in the area and poised to make a deep playoff run.
It was able to jump out to a quick and solid lead against the previously 4-0 and defending league champion Minooka Indians and never looked back.
The Tigers were led by senior guard Teyvion Kirk and junior guard Michael Smith who both scored in double digits. But even with the starters showing their talent and athleticism, it was the bench that made an all-around dominant team performance.
"We knew that going in after our Thanksgiving tournament that obviously there were a lot of things we needed to work on," Joliet West Head Coach Nick DiForti said.
"We had some really tough practices and some really mental practices and I think the mental practices helped us."
While the beginning of the game was a little slow and sloppy, the Tigers jumped out to a 13-8 lead after the first quarter and would eventually extend the lead at halftime to 33-17.
The Tigers stole the ball away on multiple occasions and made the Indians pay. Joliet West pulled out the easy 63-35 road win to remain undefeated.
"It was nice to get our guys on the bench (playing) a little bit later in the game," DiForti said. "You know playing against Minooka you can't do that too early because at any given point they're going to hit a three and get right back in the game."
Joliet West has another game on Saturday against North Lawndale (4-0) at the UIC Pavilion in Chicago.
Local boys basketball scores for Friday, December 2:
Joliet Central 64, Plainfield North 57
Bolingbrook 99, Lincoln-Way Central 62
Oswego 50, Plainfield Central 46
Oswego East 89, Plainfield East 83