Raccoons go out on a limb to capture photo contest win
12/4/2016, 10 a.m.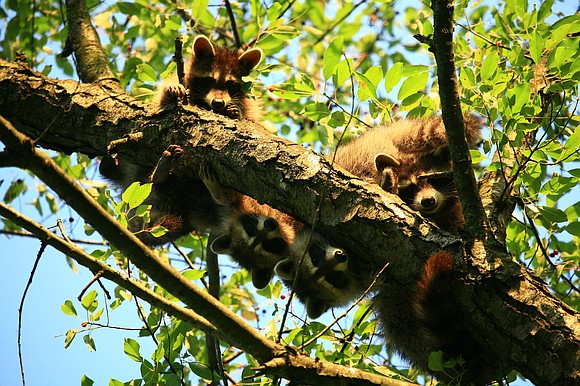 Young raccoons cavorting on a tree branch upped the cuteness quotient in the Forest Preserve District of Will County's Preserve the Moment photo contest in November.
The photo, taken at Lake Renwick Heron Rookery Nature Preserve in Plainfield by John Sullivan of Crest Hill, won the November portion of the contest. Contest judges chose the photo for its animated subject matter and playful composition.
Sullivan said he's outdoors a lot and he always brings his 35 mm camera.
"I get up at 4 in the morning to be outside at daybreak," he said. "I just love
sharing the pictures."
He said he got interested in taking photos as a child.
"My grandfather used to send me the National Geographic school bulletin, and I was
inspired by the photography," he said.
Honorable mentions were awarded to: John Mobley of Oak Park for his shot of a slug
slithering along the forest floor at Veterans Woods in Romeoville; Pam Ridgley of
Braidwood for her serene fall kayaking photo at McKinley Woods in Channahon; Ronald Kapala of Shorewood for a picturesque sunset photo that featured fall foliage and waterfowl at Lake Chaminwood in Channahon; and Ryan Sing for his bold shot of a corroded bolt at Joliet Iron Works Historic Site in Joliet.
Only one month is left in the Preserve the Moment photo contest. December entries are due by midnight Dec. 31. Once December's top photo has been picked, monthly winners from June through December will vie for top honors, which will be awarded based on online voting via Facebook. Prizes will be awarded for first, second and third place photos after the online voting session concludes.
Eligible photos must be taken by amateur photographers in a Will County forest preserve during the contest period, June 1 through Dec. 31, 2016.
For more information on the contest, visit ReconnectWithNature.org. To see all of the photo entries so far, visit the Forest Preserve District's Flickr page at
www.flickr.com/photos/willcoforests