H.S. Boys Basketball: Bolingbrook beats Lockport
Alex Ortiz | 12/8/2016, 10:37 p.m.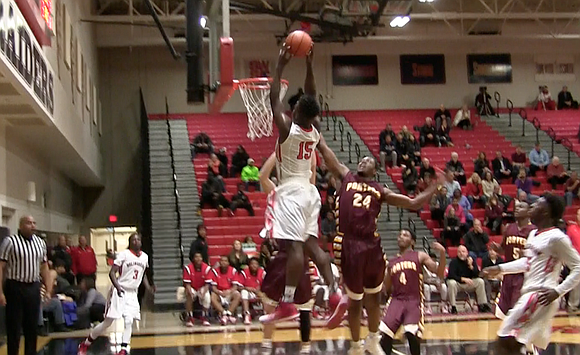 BOLINGBROOK - The Bolingbrook Raider got up on Lockport with a 12-6 advantage after the first quarter, and that was an off night for the 5-0 team, one of the best in the state. At halftime, they only led 25-20. Bolingbrook would go on to win handily 63-38.
"I don't want to call it panic but when we don't immediately start jumping on teams, I think our guys try to do too much," said Bolingbrook Head Coach Robert Brost. "That first half was the worst we played all season."
Lockport was overwhelmed in the second half by Bolingbrook's stingy defense which took the ball away about 30 times and were able to convert on break aways and even a couple of flashy dunks.
The Brook's star forward and Nebraska commit Nana Wiafe-Akenten had 21 points. Forward Malik Binns had 16.
The Raiders work really well as a team at times passing the ball well especially on the fast breaks. Boost has liked what he's seen so far out of his team but he knows that when they're really clicking, they'll be tough to beat.
"It's all about playing together and going hard all the time," Brost said. "And I thought we went hard all the time tonight, but we didn't necessarily play together."
Up next, Bolingbrook will play at home against inter-district rival Romeoville next Wednesday, December 14. The Spartans are a young upstart team which should prove an interesting test because of its athleticism but does not have a good track record against the Raiders. Should be good though.