H.S. Boy's Basketball: Bolingbrook tops Romeoville in rival matchup
Alex Ortiz | 12/14/2016, 10:53 p.m.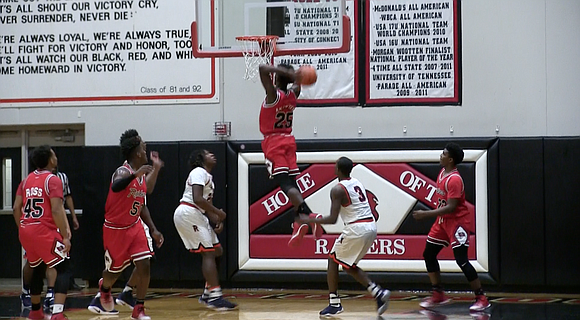 BOLINGBROOK - The atmosphere was simply electric.
In an inter-district matchup between Bolingbrook (6-0) and Romeoville (3-4), the stands were nearly full on both sides as the teams traded blows early on Wednesday night. The young Spartans did not back down to one of the best two teams in the area, but the Raiders would eventually take control and win out 84-55.
"In pretty much every game so far, we've had runs of 25 to two or 20 to five either in the second or third quarter," Bolingbrook Head Coach Robert Brost said.
Romeoville was able to keep the game close and was even tied 13-13 midway through the first quarter but missed shots and turnovers gave the Raiders the 50-27 advantage at the half.
"We came out early and I thought we were going to give them a fight," said Romeoville Head Coach Marc Howard. "But once we start missing layups and they ran out on us a couple times and hit some threes and stretched that lead out, we just couldn't catch back up. We kind of fell apart."
The Raiders' star forward and Nebraska commit Nana Akenten had 20 points to go along with teammate Kaleb Thornton's 10 points, 4 rebounds, 8 assists and 5 steals. Romeoville's DeAndre Heckard had 24 points.
Akenten is averaging nearly 20 points per game to help his team's 77.5 points per game even though against Romeoville he only played about two and a half quarters, the most he's played in a game all season according to his coach.
Up next, still undefeated Bolingbrook has a couple of weeks off until the Hinsdale Central Holiday Classic starting Dec. 27 against Glenbrook North at 2 p.m. Romeoville will play again at home on Friday, Dec. 16 against Plainfield North with tip off at 6:30 p.m.