Will County Progressives aim for incremental change
Alex Ortiz | 12/14/2016, 3:37 p.m.
JOLIET - In a small room full of former Bernie Sanders supporters, it might come as a surprise that the majority of them aren't all 22 year-old college students, but instead about two-thirds are seniors. They are part of a group called the Will County Progressives, and their mission is to engage their community in political activism and education.
Some of the members were former Sanders campaign volunteers at the Joliet office, but when it became clear that Hillary Clinton would be the Democratic nominee, the volunteers wanted to remain politically involved. Other members were shocked and concerned about the election of Donald Trump to the presidency, and wanted to get involved for the first time.
Whatever their entrance point, they all feel very passionate about the same basic issues that very much reflect what Sanders advocated like universal healthcare, fair tax policies, civil rights, immigration reform and the removal of big money from electoral politics just to name a few. But in breaking with the stereotypical inspiration to embrace progressivism, some like Jim Hamilton, 76, have made a complete 180 degree turn.
"I got into it after George W. Bush decided to go into Iraq," said Hamilton, of Joliet. "I was a conservative Republican. I immediately switched and I've become an increasingly liberal Democrat."
A complete reversal in his 60s might be an unusual story among political junkies, but Hamilton said he was unhappy with the direction the country was going at that time. It was a far cry from growing up in a conservative Republican household as a child in the city of Chicago, a Democratic stronghold. Hamilton recalls crying when John F. Kennedy beat Republican Richard Nixon in the 1960 election and was a Barry Goldwater fan in the '64 election. Now he was a devoted Sanders supporter who tried to convince his neighbors to vote for Sanders.
Now he, along with the rest of the Will County Progressives, is concerned about the direction President-elect Trump is going.
But going forward, the group says they wants to engage people of all types and all political backgrounds. That begins with their Friday night socials where members meet, eat, drink and talk politics. Sometimes they have local politicians come in and educate them about how the system works on the local level, and it's paid off as a few of the members have experience running for various local offices.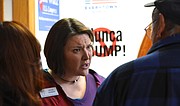 "We want to give people a place, a space where they can learn about politics and they don't have to know the 'Latin' of the politics," said Nicki Serbin, the chairperson and a founding member of the Will County Progressives. "We can kind of translate it for them because we ourselves are learning as we go."
But this is not just for those with a passing interest in politics or who just watch the news; people who come to the meetings do their research and even partake in spirited but respectful debates. Serbin is very big on being able to admit she's wrong and when someone else's argument is simply better. That also means, at times, engaging with people on the complete opposite side of the ideological spectrum.