Grgich Hills Estate of Napa Valley – Wines for all seasons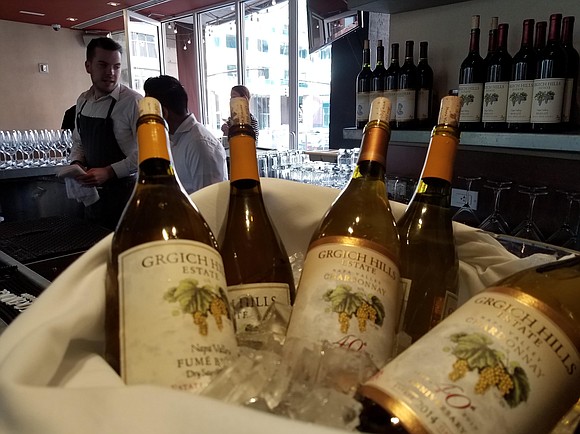 Violet Grgich, proprietor of Grgich Hills Estate of Napa Valley and daughter of winemaking legend Mike Grgich, is recounting the colorful life and career of her history-making father as no one else can in the chic Tree house bar and dining room at David Burke's Kitchen at the James Hotel. What, for her father, began as a journey, fleeing the Nazis from a tiny village in his native Croatia, to creating a wine that won the 1976 Paris Tasting, founding a world-famous winery in the Napa Valley, which is now in its 40th anniversary year, to having that championship wine enshrined in the Smithsonian Institute as one of 101 Objects That Made America, is a story she never tires of telling.
Violet Grgich and her 2014 Napa Valley Chardonnay, her father, Mike Grgich, is known as "The King of Chardonnay"
Grgich kept her comments brief and to the point because her main objective was to have the assembled 20 or so invited wine guest dive into a wine-pairing luncheon choreographed by David Burke's stellar culinary staff. The opening salvo was, of course, Grgich Hills 2014 Fume' Blanc, the wine which Mike Grgich originally created for winemaking icon Robert Mondavi. The wine popularized Napa Valley wine in a way that it had never been before. Paired with a Root Vegetable Salad composed of fennel, smoke and white truffle, the wine's characteristic smoky flavor and full-mouthed texture and flavors of juicy tropical fruit and lemongrass was enhanced by 6 months on the lees in neutral barrels and aging in a combination of neutral casks and large oak barrels, which gives the wine smoothness and roundness of character.
Composed salad of root vegetables, fennel, smoke and white truffle was paired with Grgich Hills 2014 Napa Valley Fume Blanc
The centerpiece of the afternoon was, of course, the 40th Anniversary 2014 Napa Valley Chardonnay, accompanied by a Za'Atar Spiced Cornish Hen with roasted pork belly, spinach and yogurt, a Mediterranean spin on a lunchtime staple. The pairing emphasized the complex fruit flavors of ripe peach, backed by flavors of mango and tropical fruit, with a note of minerality. A pleasant natural acidity brought about by the fact that the wine is not allowed to undergo malolactic fermentation, and the grapes are farmed naturally and are certified organic. The fresh tastes and aromas linger long on the palate and brought out the sunny array of spices used in the dish.
Za'atar Spiced Cornish Hen with 2014 Grgich Hills Chardonnay, 40th Anniversary
House Made Rigatoni appeared next accompanied by Grgich Hill's robust 2012 Napa Valley Merlot.
With a red wine game ragout, duck egg, roasted mushrooms and parsley gremolata, this was an ideal flavor pairing. It mined the ripe plum and slightly earthy notes of the wine, with hints of black dirt and freshly unearthed truffles. For lovers of game meat, this was a rewarding taste excursion.
House Made Rigatoni with Duck Egg and Red Wine Game Ragout is paired with 2012 Merlot