New Bolingbrook political party to challenge long-serving Mayor in April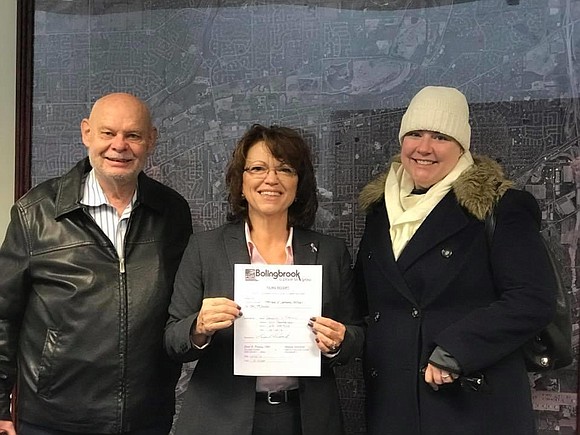 The formation of the Bolingbrook United political party was born out of fundraising visit of then Presidential candidate Donald Trump hosted by Mayor Roger Claar.

Ahead of the fundraiser, a group calling itself Suburban Families Against Hate got busy collecting signatures asking the mayor to reconsider. When that failed, the group organized a protest across the street from the Bolingbrook Golf Club to protest Mr. Trump and his comments that disparaged immigrants, the disabled, and many other groups.
Since that visit and the resulting electoral victory of President-elect Trump, the group has morphed in to a political party that will challenge Claar in the April 2017 election.
Will County Board member Jackie Traynere will lead the ticket for mayor, which will also include resident Jaime Olson for Village Clerk as well as Robert Jaskiewicz, Terri Ransom and Mary Helen Reyna for trustee spots.
A life-long resident of the village, Traynere said that she decided to run because she has "a very strong vested interest in our community." She said that a large portion of the community was "outraged" by Claar's support of Trump's visit.
The organizers and volunteers continued to meet after their protest and many felt it was time for the mayor to face a serious challenge for office.
"This isn't right, what the mayor did, and maybe it's time for someone else to run," said Traynere who has served on the Will County Board since 2008 and was re-elected to another 2-year term in November.
Claar has served as the village's mayor for 8 terms and over 30 years. He last faced a challenger for office in 2009 who was eventually thrown off the ballot but ran as a write-in candidate.
Traynere said that Claar's support of the Trump visit ignores the diversity of the Bolingbrook population. According to the 2010 census, Bolingbrook's population included a 54% white populace. Of the village's minority population, which makes up 59.7% of total residents, Hispanics account for 24.5%.
The party turned in their ballot petition this week and had more signatures than Mayor Claar's First Party of Bolingbrook ticket.
"I think we're going to be very competitive in this race," said Traynere who also commented that her group would be talking to as many voters and raising as much money as possible before the April election.
The group will need to work hard to match the fundraising power of Claar who
has over $500,000 in his Citizens for Claar campaign account according to
the most recent quarterly report filed with the Illinois State Board of
Elections (www.elections.il.gov/.)
If they are successful in their bid, Traynere said that the first order of
business will be to separate the office of mayor from also serving as the
village's liquor commissioner due to the conflicts that could arise.
What she's learned from talking to people so far is that many are
concerned about the growing debt in the village.
In June, Moody's Investors Service downgraded the village's bond rating from
A1 to A2 based on a $316.9 million general obligation bond debt and the
"substantial long-term liabilities, which are expected to increasingly
challenge its financial operations." In that same report the investor
service did cite strengths that include "a sizeable tax base, above average
resident wealth levels, ample revenue raising flexibility provided by the
village's home rule status and steadily growing revenues."
Requests to Mayor Claar for comment were not returned before deadline.