College sports roundup: Lewis men's basketball breezes by Salem International
Alex Ortiz | 12/18/2016, 7:15 p.m.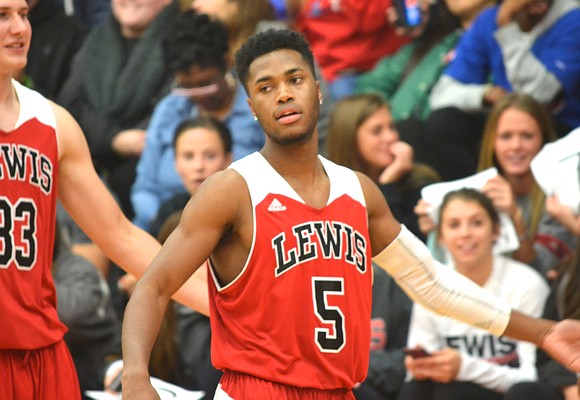 The Lewis men's basketball team had a big 111-61 win on Sunday against Salem International on the final day of the QU Subway Holiday Classic. The win is the Flyers' fifth-straight.
The 111 points are the most by Lewis in a single game since 2001 and the most in a regulation contest since 1997. Six different players scored in double-figures and the Flyers shot over 54 percent from the field.
Lewis improves to 7-4 with the win and will be back in action on December 30 at home against Northwood with a 7 p.m. tip-off.
St. Francis men's basketball win in overtime against Goshen
No. 19 St. Francis survived a 93-91 overtime win against Goshen College on Sunday in non-conference play. Junior Iain Morison had a game-high 23 points while senior Logan Timmons earned his first career double-double with 16 points and 13 rebounds.
The Fighting Saints went on a 9-2 run to get within a point in the first half after trailing by as many as nine points. The second half had nine lead changes and six ties.
The win comes just one day after a 63-54 loss at home against Cardinal Stritch also at home. The Saints are now 7-5 on the season. St. Francis is in action again at home on Tuesday afternoon against NCAA Division II Eureka College at 1 p.m.
No. 1 St. Francis women's basketball wins against No. 16 Cardinal Stritch
Freshman Kaitlin Aylward had a season-high 23-points in her team's 63-56 win against Cardinal Stritch in CCAC play on Saturday.
With the win, an 11-0 overall record and a 6-0 conference record, the Fighting Saints have matched the fastest start to a season in the program's history.
Aylward went eight of 10 shooting, was perfect on seven free throw attempts, and added seven rebounds and two steels. Junior Christina Ekhomu had 12 points and senior Charnel Reed contributed 10 points.
St. Francis is off until December 29 when it plays Cornerstone University at the Davenport University Holiday Classic.