2017 Forest Preserve picnic, camping permits available Jan. 3
12/19/2016, 10:11 a.m.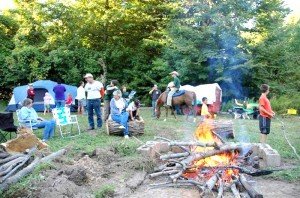 Once the holidays are over and the New Year begins, it's time to start planning a 2017 Forest Preserve District of Will County picnic or camping outing.
Permits will be available on a first-come, first-served basis starting Tuesday, Jan. 3, at four Forest Preserve visitor centers: Isle a la Cache Museum, 501 E. Romeo Road (135th St.), Romeoville; Monee Reservoir, 27341 Ridgeland Ave., Monee; Plum Creek Nature Center, 27064 S. Dutton Road, Crete; and Sugar Creek Administration Center, 17540 W. Laraway Road, Joliet.
Picnic permits cover more than 30 rentable shelters that are nestled in forest preserves throughout Will County. Shelter rental fees begin at $60 for Will County residents. Permits must be purchased in person at one of the visitor centers, and they are required for groups of 25 or more. Browse picnic permit details and view photos of the shelters at ReconnectWithNature.org/recreation/picnicking before deciding on a location for your 2017 get-together with family, friends or colleagues.
Camping permits also will be available for purchase starting Jan. 3 at the visitor centers. Tent camping is allowed at Goodenow Grove Nature Preserve in Crete Township, Hammel Woods – DuPage River Access in Shorewood, McKinley Woods – Frederick's Grove in Channahon, Messenger Woods Nature Preserve in Homer Glen and Forked Creek Preserve – Ballou Road Access in Wesley Township.
Campsite rental fees begin at $7.50 per night for Will County resident group camping. Family and group camping permits may be purchased over the phone with a credit card or in person at one of the Forest Preserve visitor centers. Learn more about camping permits by visiting ReconnectWithNature.org/recreation/camping.