Herb Crusted Beef Tenderloin
12/21/2016, 11 a.m.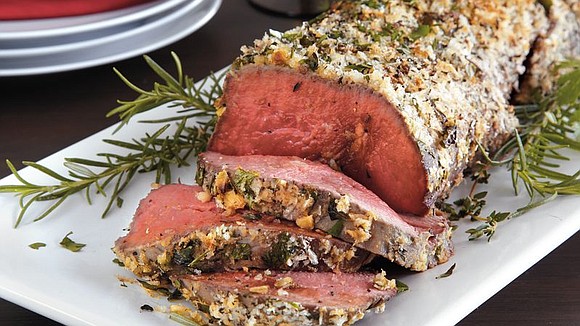 SERVINGS: 8
Ingredients
1 beef tenderloin (2 1/2 to 3 lb), trimmed of fat
5 teaspoons Dijon mustard
½ cup panko crispy bread crumbs
¼ cup chopped fresh parsley
2 tablespoons chopped fresh rosemary leaves
2 tablespoons chopped fresh thyme leaves
1 tablespoon coarse (kosher or sea) salt
1 tablespoon freshly ground pepper
10 cloves garlic, finely chopped
Fresh rosemary sprigs, if desired
Directions
1 Heat oven to 500°F. Turn small end of beef under about 6 inches. Tie turned-under portion of beef with kitchen string at about 1 1/2-inch intervals. Place beef in shallow roasting pan. Brush with mustard. In small bowl, mix bread crumbs and remaining ingredients. Pat bread crumb mixture onto mustard-coated beef, pressing gently. Insert ovenproof meat thermometer so tip is in thickest part of beef.
2 Bake uncovered 10 minutes. Reduce oven temperature to 350°F. Bake 30 minutes longer or until thermometer reads 135°F or150°F. Cover loosely with foil; let stand 20 minutes or until thermometer reads 145°F (medium-rare) or 160°F (medium). Remove string from beef before carving. Garnish with rosemary sprigs.